Brandon Johnson: 5 Things To Know About Chicago's Next Mayor
Mayor-elect Johnson pledged to "build a safer, stronger Chicago" after winning a narrow victory.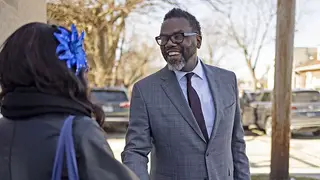 Brandon Johnson, a progressive Democrat, reached the pinnacle of Chicago politics on Tuesday (April 4) when he defeated fellow Democrat Paul Vallas to become the Windy City's next mayor. Johnson's win marks a stunning victory in the nation's third largest city for a relatively new politician who lacked name recognition.
It was a close race. At the end of the night, Johnson, a 47-year-old Cook County Commissioner, had 51 percent of the vote with 286,647 votes, Chicago station WLS reported. Vallas, the former CEO of the Chicago Public Schools, captured 270,775 votes.
"Tonight, we have shown the world the power of hope, the strength of organizing, and the might of our collective voice," Mayor-elect Johnson tweeted. "Tomorrow, the real work begins. We will build a safer, stronger Chicago that reflects the hopes and dreams of every one of us—together."
The African American Mayors Association applauded Johnson's victory, noting that he will soon join the "Big 4"—a group of Black mayors from the nation's largest cities, New York, Los Angeles, and Houston.
"We are proud of Mayor-elect Johnson's victory, and AAMA plans to stand behind him and give him the support he needs as he works to tackle the most pressing issues of his city," Little Rock, Ark., Mayor and AAMA president Frank Scott, Jr., said in a statement sent to BET.com. "We are confident that Mayor-elect Johnson will work diligently to bring the city together during this pivotal time."
Johnson and Vallas faced each other Tuesday night in a runoff election after they advanced as the top two contenders in a field of nine candidates in the Feb. 28 general election.
Johnson finished second, behind Vallas, in the February general election and ascended rapidly in the polls, which The New York Times credited to the strong support he received from the Chicago Teachers Union (CTU). He also received endorsements from high-profile progressive politicians.
Looking ahead, Johnson will take office next month and be sworn in on May 15. As he begins his tenure, Johnson will be under a local and national microscope. Here are five things to know about the mayor-elect as he begins to form his administration and tackle Chicago's biggest problems.
He's A Progressive Democrat

On his campaign website, Johnson vowed, if elected, to lead on issues surrounding fully funding public schools, affordable housing, green jobs, and access to mental health care. His administration will advance innovative solutions that address the root causes of violence and poverty.

U.S. Sens. Elizabeth Warren, a Massachusetts Democrat, and Vermont's Independent Bernie Sanders endorsed Johnson's progressive credentials.

"Brandon Johnson knows the struggles of working families and the need to stand up for strong unions, make the rich pay their fair share, to invest in affordable housing, quality health care, better schools, and good jobs. That's why I'm proud to endorse him for mayor of Chicago," Sanders tweeted.

On March 30, just days before Chicagoians headed to the polls, Sanders rallied thousands of supporters at the University of Illinois Chicago, urging them to cast their ballots for Johnson, WGN reported.

He's an Ally To the Teachers Union

Johnson began his career as a public school teacher at Jenner Academy in Cabrini Green, "where he experienced firsthand how school closures, unemployment, and gun violence impacted his students and their communities," his bio states.

He received the city's teachers union endorsement—even before he declared his mayoral candidacy, according to WTTW. "My CTU family is one of the fiercest, most progressive unions in the country and has built up organizing power in every corner of our city to fight for the common good," Johnson said when accepting the endorsement.

CTU, one of Chicago's most powerful unions, has a social justice focus, with its sights set on more than increasing teacher pay and classroom conditions. It wants the city government to also find solutions that address issues surrounding housing and poverty.

He Has Roots As An Organizer

As a teachers union organizer, Johnson has said, "He led multi-racial coalitions to defend neighborhood schools from privatization, reduce high-stakes standardized testing, and expand access to state funding."

He's more than just about the talk, he also believes in taking action. Johnson participated in the 2015 Dyett hunger strike, in which parents and activists stopped eating solid food for weeks to help save Dyett High School from closing, according to the CTU.

Johnson was also a founding member of the United Working Families Party, which promotes quality public education, affordable housing, and corporate accountability.

He's Somewhat Of A Political Underdog

Johnson kicked off his political career with a surprising primary election win in 2018. He narrowly defeated incumbent Cook County Commissioner Richard Boykin before running unopposed in the general election.

The victory was a surprise to many. Boykin had the support of suburban mayors and business leaders, as well as public visibility and name recognition. Nonetheless, it established Johnson as a serious political contender.

His Faith Is Central To Who He Is

The son of a pastor, Johnson is the middle child among 10 siblings, which means he obviously has had to learn how to share and get along with others. In the midst of that big family upbringing, Johnson says that his religious faith has always been central to his life.

He helped to continue the family's ministry after his mother died during his college years by leading the church's youth group. This included driving them to gospel singing competitions and serving as the group's drummer.

He believes that his faith led him to meet his wife, Stacie. The couple first met at an annual religious convention. Their parents, however, discouraged them from getting married too soon, so they waited and got married when he was 22. The couple now lives in the Austin community, where they are raising their three children Owen, Ethan, and Braedyn.