Wow: You Won't Believe Monyetta Shaw's Sexual Regrets With Ne-Yo
Would you go this far to keep a man?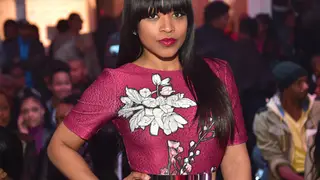 Ne-Yo's ex, Monyetta Shaw, is revealing something about her relationship with the musician that may make a few people uncomfortable. Speaking with the folks on Bossip's Don't Be Scared podcast, Monyetta revealed she and her superstar ex would occasionally engage in threesomes.
"You're in a relationship, you know your partner, I wasn't a prude," she said. "I went hard for my relationship, it kind of happened and that's what it was. The reason why I thought it was important to put it in there [the book] just when my daughter gets old enough to read it, or my son, it's necessary [in the book] because whatever you do — you ain't gon' keep him."
When asked why she agreed to the threesomes, Monyetta said she was willing to do anything for her man: "I love hard and I went hard for my man, no question, and I feel like I did those things at the time because I felt it was necessary and I was in love."
She had one rule regarding their threesomes, though: no seafood. "I've never tasted the seafood, let's be clear," she said. "I have no desire to taste the seafood."
The former Hollywood Exes star also said she was positive their relationship would never dissolve. "If you would've told me that we weren't going to be together, I would've told you that you were a damn lie," she said. "I knew that he had my heart and I had his heart no matter what."
That's not all she dished on. Also speaking on the concept of "hall passes," she said while she gave the "Because of You" singer permission to cheat as long as he used protection, she doesn't recommend women follower her suit.
"Absolutely not. Girl, run! Don't do it," she said. "He was my best friend, it was straight up ride or die. I just saw my family breaking up — I don't know that world, my parents have been together 44 years. So I'm like, what do I need to do? What is it? I know this is your problem so here, this is what you gotta go thinking he'll get over it... Even though I'm dying inside."
What do you think of Monyetta's words? Would you go to these lengths to keep a man?
Catch the rundown on Ne-Yo and his wife Crystal Renay's new bundle of joy with BET Breaks, above.
BET.com is your No. 1 source for Black celebrity news, photos, exclusive videos and all the latest in the world of hip hop and R&B music.