When This Former Division I Baller's Career Ended, He Found A New Path In Community Service
NYC's Haron Hargrave's Ballin 4 Peace is a charity movement born out of obligation.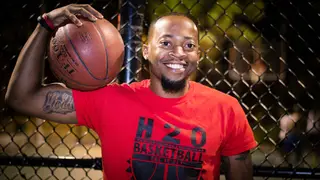 Haron Hargrave was able to segue a solid collegiate basketball career at Sacramento State from 2005-07 into ballin' overseas, bringing his guard play to Romania, Hungary and China, to name a few places, for several more years.
But as the Jamaica, Queens, New York, guard's hardwood career started winding down, he didn't want to let hoops go. So, he held on with a new plan in tow. 
Hargrave connected his lingering love for the game with giving back to the community by launching his H2O Basketball AAU team in 2014, servicing NYC youth. Why H2O?
Well, that's the nickname he earned after dropping 57 points in a single game at the Hoops in the Sun tournament in the Bronx one year after coming back home from ballin' in Romania.
"I used my streetball name and turned it into a business," Hargrave, who also works as a substitute teacher for the Department of Education in New York City, tells BET.com.
And H20 Basketball would be the breeding ground for Hargrave's next baby, Ballin 4 Peace, a movement he founded three years ago to bridge the gap between sports and peace within the Big Apple. B4P has Hargrave throwing a basketball, flag football and bowling event once a year in the city with a portion of proceeds going to various non-profits and charities. 
BET.com recently caught up with Hargrave, as he told us more about his hoops path, the Ballin 4 Peace initiative and some Love & Hip Hop stars and beyond that will be in attendance for his big celebrity bowling event on Tuesday night in NYC. 
For those unfamiliar, tell us about your basketball path.
I went to Sacramento State, led my team in scoring, assists, broke the school's single-game steals record. I hold the school's single-game three-pointer record. That was a major part of my life. I played Division I and overseas — different countries like Romania, Hungary, China, Dominican Republic, Puerto Rico, Mexico City. So, ball is life. When someone says that, it really pertains to me and all I've done with it. I've made basketball into my career and life and it's actually helped me stay out of trouble and stay focused.
How did Ballin 4 Peace come about?
I started a movement over 10 years ago called Queens Week. I wanted to give back to my community and my message with that was I used to do free [basketball] clinics for kids ages 6-18 and then I had a basketball tournament where I had adults and kids playing. We had the face-painting for the kids. That went on at Roy Wilkins Park [in Queens, NY] for like 10 years.
Ballin 4 Peace started three years ago. There was a lot of stuff going on in our community that was very negative, with the whole Mike Brown situation and the Eric Garner situation. I wanted to do something positive in our community and bring people together. We do peace marches and things of that nature, but I wanted to bring people together in a fun light. I love to play basketball, I love to play sports, so what better way to bring everyone out, but through sports? My message is peace through sports.
I started Ballin 4 Peace in 2015 at Baruch College. I had over 1,500 people come out. I had Jim Jones play in a game, Mack Wilds came out, Lil Mama came out, Fred The Godson, my boy Grafh. Everybody came out to this event and it showed that everyone supported my movement and my thinking. From that, I started with basketball, then a celebrity flag football game, a back-to-school supply drive ... everything has a theme to it. And then the bowling one is just another part of it, too.
It's Ballin 4 Peace, so everything has to do with a ball —  a basketball, football, bowling ball. That's my concept to it, bringing fun to peace. Everybody thinks peace needs to be violent and protesting, but no, I bring the fun to peace. We could all come together and have a good time.
Tell us about this year's event, which is this Tuesday (November 7).
It's going to be a bowling event. It's going to be a battle of the boroughs, but I also added Long Island and New Jersey to it. So, I have celebrities from different boroughs playing in it and I'm opening it up to regular fans who want to be part of Ballin 4 Peace. I've teamed up with the Guns Down Life Up organization, Sutphin Blvd. Local in Queens, Wings Over Queens. I'm going to be giving some proceeds to them and we're going to be giving a portion of the proceeds to Puerto Rico [towards hurricane relief]. I'm also teaming up with the NAACP on this.
Who are some of the celebrities that are going to be involved this year?
I have Loaded Lux, who's like the Drake of battle rap. I have Marcus Banks, one of the top comedians. I have Amadeus, super producer from the Bronx, Fred The Godson, Murda Mook, Donshea Hopkins from Power, Tara from Love & Hip Hop, so many people. Model Ayisha Diaz, Peter Gunz, Grafh, Driicky Graham, so many people. The list goes on and on. The response has been lovely.
The basketball game I do is probably the WrestleMania of it. I do that in January or February. I do the bowling [event] like in May usually and then the flag football event in August for the back-to-school supply drive. So, that's how it works.
But this year, I pushed the bowling drive back to November because I feel like there isn't too many things going on in the [fall]. People want to look for something to do. I do things strategically.
It's a blessing to do things through basketball without even having to play it right now. I still do play, but there are other ways of giving back through the game which are training, working the kids out and helping them. That's my way of giving back to the community.
You don't have to make it to the NBA to have an impact on people's lives. That's something that I firmly believe in and I'm just doing my best to get that message out there. There are still some good people in the world.
BET Sports News — Get the latest news and information about African-Americans in sports, including weekly recaps, celebrity news and photos of your favorite Black athletes.