Minneapolis Agrees To Overhaul Police Department In Wake Of George Floyd Murder
A state investigation found that the department routinely engaged in racially discriminatory policing.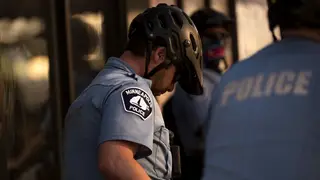 Minneapolis agreed Friday (March 31) to "make transformational changes" to the city's police department almost three years after the death of George Floyd at the hands of a white police officer who was convicted of murdering the Black man.
The agreement with the Minnesota Department of Human Rights (MDHR) was filed in Minnesota's Fourth Judicial Court and requires the city and the Minneapolis Police Department (MPD) to change the department's culture "by recognizing the humanity and civil rights of community members, addressing race-based policing, and strengthening public safety," an MDHR statement said.
Floyd's murder prompted state authorities to investigate the police. In April 2022, MDHR released a damning report which found that MPD routinely engaged in racially discriminatory policing and failed to hold its officers accountable for misconduct. Those findings led to the agreement to overhaul the police force.
MDHR noted that the agreement marks the first time that Minneapolis is under a court enforceable agreement to reform the police department. An independent evaluation team will provide oversight and monitor progress under the agreement.
"Minneapolis community members deserve to be treated with humanity. This court enforceable agreement provides the framework for lawful, non-discriminatory policing, reduces unnecessary dangers for officers, and results in better public safety for Minneapolis," MDHR Commissioner Rebecca Lucero said.
Under the agreement, the city and MPD must set and enforce clear policies that build community trust, provide non-discriminatory policing practices and reduce dangers for officers.
Among other provisions, MDHR said the agreement will:
Require officers to de-escalate
Prohibit officers from using force to punish or retaliate
Prohibit the use of certain pretext stops
Ban searches based on alleged smells of cannabis
Prohibit so-called consent searches during pedestrian or vehicle stops
Limit when officers can use force
Limit when and how officers can use chemical irritants and tasers
Ban "excited delirium" training
MPD came under national scrutiny when former officer Derek Chauvin was caught on video kneeling on Floyd's neck while handcuffed for more than nine minutes during an arrest on May 20, 2020. Three other officers at the scene stood by and did nothing to stop Chauvin as Floyd told the officers that he couldn't breathe. The killing sparked widespread outrage and protests against police brutality and racial injustice.
In a statement sent to BET.com on March 31, Floyd's attorneys applauded the "monumental" agreement, which represented "the culmination of years of heartbreak and advocacy by those impacted by the poor policies and practices of the Minneapolis Police Department."
"It is our fervent hope that the reform agreement will improve the quality of policing, enhance the training and well-being of officers and most importantly, increase trust of law enforcement in the community, particularly among those who have for so long have been marginalized and mistreated," attorneys Ben Crump, Antonio Romanucci and Jeff Storms said.