Friends Say IG Model Who Fatally Stabbed Her Boyfriend Was Violent Toward Him, Abused Alcohol
OnlyFans model Courtney Clenney claims self-defense in Christian Obumseli's death.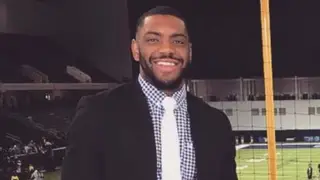 Friends of Instagram model Courtney Clenney challenged her self-defense narrative for fatally stabbing her boyfriend Christian Toby Obumseli.
Rolling Stone interviewed people who knew the couple. They said Clenney, better known on social media as Courtney Tailor, was physically abusive toward Obumseli and has a pattern of physical abuse in previous relationships. According to the friends, Clenney often abused alcohol, which sometimes made her violent.
"The reality is we did see a lot of domestic violence, and it was on her end," an unnamed friend who knew the couple when they lived in Austin, Texas told Rolling Stone.
On April 3, the OnlyFans model stabbed Obumseli in a luxury Miami high-rise apartment. The Miami Police, who had received previous domestic violence calls about the couple, found Clenny, 26, with blood soaked clothes in the apartment when they arrived.
The Miami-Dade County medical examiner told Rolling Stone that Obumseli's death was ruled a homicide. Meanwhile, the police have not arrested anyone for the killing. Clenney's attorney Frank Prieto alleges that his client stabbed Obumseli after he tried to choke her, and she was covered in blood from trying to revive him before calling 911.
But Obumseli's family demands justice. They believe it was an unprovoked attack, but the police didn't arrest Clenney because she's a privileged white woman, Fox News reports.
Officers who responded to the stabbing observed bruises on Clenney's arms and legs, but the cops were called that day because she was seen shoving Obumseli in common areas, Rolling Stone reported, citing a source familiar with the investigation.
The couple's friends said Clenney was typically the aggressor. A friend who knew them in Austin would often see her pulling him aside at gatherings to argue. Another friend, who is a social media influencer, recalled seeing Clenney pushing her boyfriend on multiple occasions, often starting an altercation over him allegedly looking at other women.
Clenney allegedly has a pattern of being the aggressor in relationships. One friend said Clenney attempted to stab an ex-boyfriend, and Larry Handfield, a lawyer for Obumseli's family, said he interviewed an ex-boyfriend who claimed that she tried to stab him twice.
The couple's friends said Obumseli usually downplayed her aggression and blamed it on her drinking.
"He was always trying to be patient and [he] was like, 'She's only like that when she's drinking,' always making an excuse, and we would be like, it's not cool. You can't just be getting the crap beat out of you," the unnamed Austin friend told Rolling Stone.
At the time of the killing, Clenney was due in a Texas court for driving under the influence on Sept. 16, 2020, the New York Post reported. She was also sued by a woman in Texas in a separate incident after a car crash.
Clenney's attorney admitted to Rolling Stone that she was physically violent, but he claimed that witnesses have accused Obumseli of being abusive behind closed doors. However, the Austin friend rejected that allegation against Obumseli. She recalled Clenney denying to her that Obumseli was beating her in private.