Family Demands Justice After Bloody Photos Of Popular IG Model Emerge After Fatal Stabbing Of Boyfriend
Five days after Christian Obumseli's death, charges still have yet to be filed in what Miami police are calling a "domestic dispute."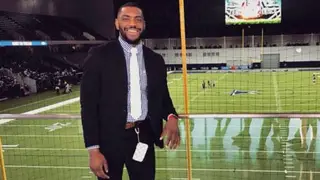 Was it self defense or murder?
Relatives and friends of Christian Toby Obumseli are now demanding justice after the 27-year old former star athlete and captain of his high school football team, was found stabbed to death on Tuesday (April 5) inside a luxury Miami high-rise apartment. Although Miami Police described the event as a domestic dispute, Obumseli's girlfriend has yet to be charged. Now, photos have emerged of her drenched in blood walking away with police from the horrific incident.
According to WFOR, Miami police had previously been called to the building, where the stabbing had taken place, before Obumseli was taken to the hospital.
While police initially did not identify the woman in the case, WFTV identified her as 25-year old OnlyFans model Courtney Tailor (real name Courtney Clenney), who has millions of followers on IG.
Police told WPLG that they had been called to the couple's apartment multiple times for past disturbances. Additionally, they say they spoke with friends who claim to know the couple well and had seen evidence of violence.
"We've seen her hit him," friend Ashley Vaughn told the news station. "I've never seen him hit her."
Friends tell CBS Miami that Obumseli recently moved to Miami and was living with Clenney at the building where he was stabbed.
"He was just really high-energy, bright, intelligent, would bring a smile to anyone," friend Josh Ramsey said, according to the news station, and added that the couple's friends are in shock over his killing.
"These are our two friends we've gone on vacation with, we go to dinners with, we go out on the town with them, and it seems like it's straight out of a crime documentary," Ramsey said. "We would have never guessed it would have escalated to this point. I think I speak for our whole friend group, we are just shocked. Very distraught about this."
Clenney's name was initially being kept out of the public because of the Baker Act, which "enables families and loved ones to provide emergency mental health services and temporary detention for people who are impaired because of their mental illness," according to University of Florida Health.
However, the Obumseli family attorney isn't buying that and says they expect charges to be filed soon.
"The family is devastated by the loss of life," said Larry Handfield according to NBCMiami.com. "At this point, all they're looking for is justice.
"We have no reason to believe this is self defense," said Obumseli's cousin Karen Egbuna at a press conference. "This is one of the youngest in the family, he is loved, he is kind, he is caring, soft spoken, the idea that this is somehow warranted, is unthinkable."