Why Is Blac Chyna's Mother 'Broke as a Motherf****r'?
But here's what she's doing with her last $33.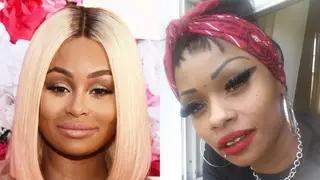 It seems as Blac Chyna's fame and assumed fortune hasn't transcended to her mother Tokyo Toni as the reality star's mother recently took to Instagram to reveal that she's broke with just $33 to her name.
Tokyo Toni posted a video clip to Instagram explaining that though she's broke, she will continue to give back through community service.
"You can be rich as a motherf****r and on your way to hell," she said. "Trust me. You can't take nothing with you to heaven or hell... The poor will never be poor because they're rich at heart, like me. I'm broke as a motherf****r. I got $33 to my entire name. Ask me, 'Do I care?' Nope."
Take a look at the clip, below:
See how Chyna and Rob cashed in on the birth of their daughter in the video, above.