Top NBA Players Under 25: Luka Doncic Leads The List Of Young Stars
The sky's the limit for these up-and-coming elite players.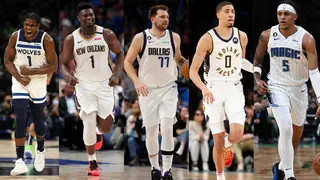 San Antonio's Victor Wembanyama is the latest generational talent to take the NBA world by storm. The 19-year-old's toolbox of talents, at such a young age, is as advanced as we've seen. It has led to the 7-foot-4 big man being featured on just about every 25-and-under list of NBA standouts despite having yet to play in a regular season game.
Those lists are headlined by a trio of 25-year-old All-Star regulars, led by Boston's Jayson Tatum, Atlanta's Trae Young and Oklahoma City's Shai Gilgeous-Alexander.
So, any list of 25-and-under studs in the NBA is already stacked at the top, right?
Let's take those 25-year-old OGs out of the conversation and leave it to just those who have yet to blow out 25 birthday candles and have, you know, played in an NBA game (Sorry, Wemby fans).
Here's what the top shelf of that under-25 list should look like.
Luka Doncic, Dallas (Birthday: Feb. 28, 1999; 24 years old)

Of the players on this list, the consensus remains Luka Doncic is the most likely to wind up as the league's MVP. He has point guard vision, shooting guard skills, small forward size and big shot swagger. 

As great a player as he is, Doncic needs help –  more help than Kyrie Irving. As dysfunctional as the Mavericks looked at times last year, Doncic still managed to set career highs in scoring (32.4 points) and shooting (49.6 percent). Tack on a few more wins this season and that just might be enough to get Dallas back to the playoffs and Doncic that ever-elusive MVP award.

Anthony Edwards, Minnesota (Birthday: Aug. 5, 2001; 22 years old)

The breakout performer on Team USA, Edwards has proven himself as one of the most talented players among the young and not-so-young stars of the NBA. 

Last season, Edwards averaged 24.6 points, 5.8 rebounds and 4.4 assists per game. In addition to scoring, Edwards' strength, thus far, has also been his ability to gradually transform the losing culture that has engulfed the Timberwolves franchise for years. He has helped lead the team to the postseason in two of his three seasons since he came into the NBA. Before his arrival, Minnesota failed to make the playoffs 15 of the previous 16 seasons.

Tyrese Haliburton, Indiana (Birthday: Feb. 29, 2000; 23 years old)

The always-cool demeanor and overall versatility of Tyrese Haliburton's game separates him from many in the NBA. He's coming off his first All-Star appearance and averaged a double-double last season with 20.7 points and 10.4 assists, both career highs. 

Along with his scoring and passing, he has been among the NBA's most consistently efficient shooters from deep range. Haliburton has shot 40 percent or better from three-point range in each of his first three NBA seasons.

Zion Williamson, New Orleans (Birthday: July 6, 2000: 23 years old)

When healthy, not only has Zion Williamson been dominant, but the New Orleans Pelicans have been good - like really good. Last season, the Pelicans had the best record in the West in early December, with Williamson's play leading the charge. He got hurt (again), the losses started to pile up (again) and the Pelicans were a non-factor (again) for the rest of the season. 

In four NBA seasons, Williamson has played less than 30 games twice (2019-2020 and 2022-2023) and did not play at all (foot injury) a third season (2021-2022). That is the blessing and burden that comes with a generational talent such as Williamson, whose most significant flaw - staying healthy - is a reminder of the promise and potential problems a player with his ability presents for a franchise.

Paolo Banchero, Orlando (Birthday: Nov. 12, 2002; 20 years old)

The NBA's reigning rookie of the year didn't disappoint in his first season, averaging 20 points, 6.9 rebounds and 3.7 assists per game. He uses above-average strength and quickness to get to where he wants to with a slew of power moves. But he's also a savvy passer, which makes sense, considering he was primarily a guard until high school. 

The next step for his evolution as a player is to improve his perimeter shooting. Last season, Banchero shot just 29.8 percent from 3-point range.

A. Sherrod Blakely is in his Michael Jordan year (No. 23) of covering the NBA, and is also a full-time lecturer at Boston University.