Vegging With Michelle Obama
First Lady Michelle Obama and student helpers harvests the White House kitchen garden.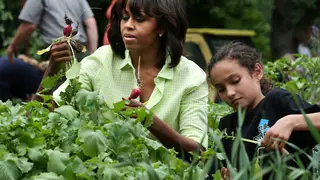 Obama praised the New Jersey children for getting through the year "way on top of the game."
She also announced that the wheat she and her student helpers have planted is "growing like gangbusters," adding that one day they may be able to use it to produce "our own White House bread."
After digging up radishes, lettuce and other vegetables and herbs, the White House chef crew helped the first lady and her guests prepare flat-bread pizzas with green toppings.

(Photo:  Chip Somodevilla/Getty Images)