Georgia Election Board Dismisses Fraud Claim Against Poll Workers
Ruby Freeman and Shaye Moss endured violent threats from conspiracy theorists claiming they helped rig the election for Biden.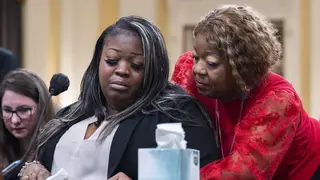 Georgia's State Election Board on Tuesday (June 20) cleared election workers Ruby Freeman and her daughter, Wandrea ArShaye "Shaye" Moss, of wrongdoing after a years-long investigation into alleged fraud in the 2020 presidential election, the Georgia Secretary of State's office announced.
"We remain diligent and dedicated to looking into real claims of voter fraud," Georgia Secretary of State Brad Raffensperger said. "We are glad the state election board finally put this issue to rest. False claims and knowingly false allegations made against these election workers have done tremendous harm. Election workers deserve our praise for being on the front lines."
Freeman and Moss received violent threats after conspiracy theorists on social media falsely claimed that they committed election fraud to help President Joe Biden win the election.
Raffensperger's statement said three law enforcement agencies, including the Georgia Bureau of Investigation and the FBI, reviewed the entire unedited video footage of the alleged fraud and the video posted on social media. The social media version was found to be created by a third party who "admitted he created a fake account and confirmed the content that was posted on the account was fake."
Then-President Donald Trump and his lawyer, Rudy Giuliani, amplified the false conspiracy theories about Moss and Freeman, NPR reported. Moss testified to Congress in June 2022 about how the election fraud lies impacted their lives.
"It's turned my life upside down. I no longer give out my business card... I don't want anyone knowing my name. I don't go to the grocery store at all. I haven't been anywhere at all. I've gained about 60 pounds. I just don't do nothing [sic] anymore," Moss told members of the House select committee investigating the Jan. 6 attack at the Capitol by Trump supporters.
In April 2022, Moss and Freeman settled their defamation lawsuit against far-right One America News Network, Reuters reported. The lawsuit named OAN officials, Trump and Giuliani as defendants.
According to the complaint, OAN broadcast stories falsely accusing the mother and daughter of conspiring to run fake ballots through voting machines to help Biden win the election. Giuliani was a frequent guest on OAN programs in which he made false claims on Trump's behalf about voter fraud in the 2020 election.