This Day in Black History: April 2, 1965
Rodney King was born in Sacramento, California, on April 2, 1965.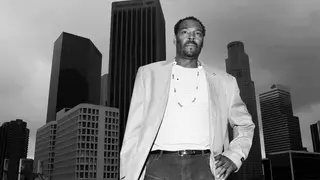 Racial tensions were brewing across the nation in the late '80s and early '90s. In Los Angeles, where L.A.'s Black population was often the victim of racial profiling by the LAPD, things were particularly heated. 
With tensions already high, Rodney King, born April 2, 1965, became an involuntary symbol of the struggle when a brutal beating by the police was caught on tape on March 3, 1991.
After a three-month trial, the four police officers responsible for beating King were acquitted by a predominantly white jury, inciting the 1992 L.A. riots.
The acquittal ignited uproar in South Central Los Angeles, sparking the largest riots the nation had seen since the 1960s. The six-day period of uprising left 50 people dead, more than 2,000 injured, 9,500 arrested for rioting, looting and arson and more than $1 billion in damages. 
He told CNN on the 20-year anniversary of the L.A. riots that he'd forgiven the officers who beat him: "Yes, I have forgiven them because I have been forgiven so many times. My country's been good to me, and I've done some things that wasn't pleasant in my lifetime, and I've been forgiven for that." 
On June 17, 2012, King was found dead at the bottom of his Rialto, California, pool. He was 47.

BET National News - Keep up to date with breaking news stories from around the nation, including headlines from the hip hop and entertainment world. Click here to subscribe to our newsletter. 
(Photo: AP Photo/Matt Sayles)