Too Far? Former 'Love & Hip Hop' Star Rips Into Joseline's Personal Life
The drama is endless.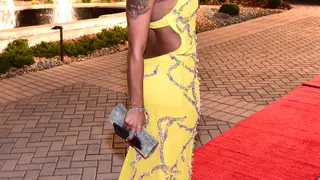 Joseline Hernandez has another enemy on her tail. According to Bossip, the self-proclaimed Puerto Rican princess's words about a former Love & Hip Hop star have not gone forgotten.
The former Love & Hip Hop: Atlanta cast member who isn't here for Joseline's shade is Waist Gang Society's waist-shaper entrepreneur, Premadonna.
Stopping by Bosisp's Don't Be Scared podcast, Premadonna dished on just why she has a problem with Joseline.
"Her issue with me is that she has issues with herself," she said. "Joseline wanted a waist trainer, that's mind boggling that she would say all that about something she wanted. Sometimes, alcohol, it impairs your judgment."
The shade she's referring to is this IG post Joseline made slamming Premadonna's product:
See who is rumored to be joining Mona Scott-Young's Love & Hip Hop: Houston squad with BET Breaks, above.