Blac Chyna and Kevin Hart Have Something in Common
They are part of an unexpected clique.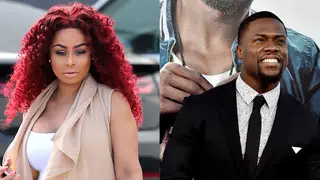 Blac Chyna and Kevin Hart may be worlds apart in most people's eyes, but not when it comes to burglars. Turns out, the two stars are suspected to be targets of a new Hollywood "Bling Ring," or a group of young thieves who target the homes of celebrities.
Chyna and Hart have both been robbed recently in very similar fashion, TMZ reports. The intruders struck when they were out of town, went for money and jewelry and appeared to know exactly where to look for it. Chris Brown and Scott Disick also suffered similar home invasions.
The original notorious "Bling Ring" targeted the homes of Paris Hilton, Rachel Bilson and other early-2000s era stars. Comprised of a group of young, already privileged kids, the group were immortalized with a Vanity Fair article and even a feature film made about them. (One member, Alexis Neiers, got her own reality show). 
Cops aren't sure who constitutes the sequel, but they're pretty confident they will strike again. Think about that, celebrities, as you plan your summer vacation.
As for Blac and Rob, their fame is about to skyrocket once their reality show hits the airwaves. Get the scoop on Wendy Williams, above.