Flavor-Inspired Fashion And Beauty Trends Are Trending On TikTok—Here's Why!
Experts weigh in on the trends that are oh–so delicious!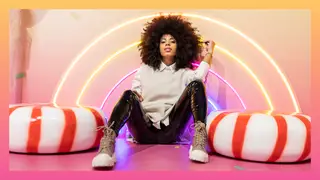 In recent months, we've noticed a huge influx in flavor-inspired fashion and beauty trends. During both New York Fashion Week and London Fashion Week, we've spotted several models sporting monochromatic looks that leaned into the rising "Vanilla Girl" and "Hot Cocoa Girl" aesthetics.
According to experts, flavor-inspired colors have been a hit this season. Even celebrities have tried their hands at the trend, including actress Keke Palmer who leaned into the "Vanilla Girl" aesthetic by wearing a Stella McCartney ribbed dress at her recent baby shower.
So how did these trends begin? According to our fashion experts, it all began with social media and people's increased need for comfort.
"I believe that the flavor trends came about as a byproduct of the pandemic," explains NeShanta Davis, a fashion stylist and retail therapist. "We were all pretty much forced into a level of comfort because we were trapped inside. Once the world opened back up, for many, the style of comfy chic became a way of life. Of course, we added a little razzle-dazzle to it for a more fashion-forward look."
Angela Edmunds, fashion consultant and founder of Showroom77, believes that the current color trends have become more about a lifestyle than just a color palette. She notes we often associate food with comfort, which gives a new meaning to the flavor-inspired trends.
"Food—like color—gives us feelings of comfort and warmth," she explains. "Some foods, such as a cinnamon roll or a warm cup of cocoa, make you feel warm and cozy. With names like 'Cinnamon Girl' and 'Caramel Girl,' who wouldn't want to be around someone who exudes that kind of sweet warmth?"
We particularly love how the new flavor-inspired trends complement every skin tone. "From vanilla to coffee, more diverse shades of neutral clothing are now available. This has opened up a greater market for women of color to find their perfect match. It is about feeling represented and celebrating the beauty of our skin," Edmunds expresses.
"Our melanin combined with warm tones styled in a dope look is simply outstanding."
Davis adds, "Our melanin combined with warm tones styled in a dope look is simply outstanding,"
If you're wondering how to incorporate the looks into your wardrobe, don't worry because our stylists are here to help you look divinely delicious.
"The first step to incorporating any new trend into your wardrobe is to start with your basics," Davis informs us. "Start with blazers, tees, and a cute bag. It is also worth mentioning that all of the tones can be paired together to make one stunning look."
While this look is very easy to accomplish, Edmunds reminds us less is more. 
"This trend is about cozy, warm, and comforting tones, so avoid mixing bright pops of color like reds and neons," she advises. "These trends are also about an effortless minimalist look, so there's no need to pile on heavy makeup."
Below, check out some of the pieces that we think are perfect for these flavorful trends.
Editor's Note: This story has been edited and condensed for clarity.