You Won't Believe What These Men Gave Up To Have A Baby With A Kardashian
Hopefully they don't regret it.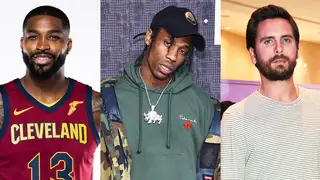 It seems, today, that it even pays to be a Kardashian baby daddy almost as much as it is to be an actual member of the family. However, that may come at a cost to the boyfriends attached to three of the ladies, Kourtney, Khloé and Kylie.
According to TMZ, Scott Disick, Tristan Thompson and Travis Scott are taking a huge risk by having kids with the women as since none of them are married, they can, at some point, see visitation or custody problems in the future. It is reported that there is no concrete custody agreement in place for any of the pairs.
The site reports that a source connected to all three men revealed that they never put their financial and custodial arrangements on paper.
Kylie and Travis reportedly have nothing in writing regarding the custody or support of their newborn daughter, with the same going for Tristan and Khloé, who are yet to give birth.
Surprisingly enough, Scott Disick and Kourtney Kardashian, who have three children together, also reportedly don't have a written custody agreement.
The site reports that they all have the option to try to strike up an agreement or go to court for one if they cannot do so on their own.