Here Are the Ridiculous Tweet Receipts Showing Trump's Hypocrisy on Syrian Missile Strikes
Both Syria and Russia called the military move an "act of aggression."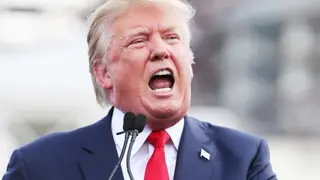 On Thursday evening, President Donald Trump ordered a missile strike on the Syrian government's al-Shayrat airbase. The militant attack comes as a result of the chemical attack on civilians, which killed dozens of men, women and children. The plan for Trump's attack was to take out Syrian President Bashar al-Assad's ability to carry out future attacks.  
However, Trump's order is a complete one-eighty on his past remarks regarding the U.S. involvement in Syria. Former President Obama wanted to order a strike in Syria. Congress, however, congress shot down his attempt. During this time in 2013, Trump furiously tweeted that the U.S. should stay out of Syria in order to prevent civilian deaths and a possible world war. 
When Obama was president, Trump repeatedly let it be known that he believed no good would come from our involvement in Syria

Trump brought up how an attack in Syria could strengthen rebel armies

The complex situation in Syria can be boiled down to a relentless fight between Assad and rebel forces. When an attack occurs against one, the opposing force could find a new strength to retaliate. 

Just as Trump warned in 2013, a missile attack against Syrian government could and will strengthen ISIS fighters. 

Rebel forces have reportedly used Trump's impulsive attack to stage attacks at checkpoints and bases. 

Trump did however say that if we were to attack, then it should be a complete surprise

Trump's strike in Syria completely bypassed the step of getting congressional approval. As of now, it appears only Russian intelligence was given a heads up about the attack at the Syrian airbase. 

The surprise attack on Syria actually did little to prevent Assad from committing future attacks and has been called "unconstitutional."

In mentioning Russia, Trump suggested that striking Syria could result in a global war

In 2013, Fox News' Sean Hannity sent a tweet about Obama that could be applied to Trump today

The Syrian government has spoken out against Trump's missile strike

Syrian President Bashar al-Assad said the attack was an "unjust and unabashed assault." Assad added the strike "shows nothing but short-sightedness, a narrowness of vision and a blindness to political and military realities."

Putin, who many believe colluded with Trump during the election, called the strike an 'act of aggression'

Trump's complete change of opinions about Syria has resulted in many calling him a hypocrite

Moreover, some believe this action against Syria is yet another diversion tactic