Look: Why Is Twitter Freaking Out About Nate Parker's Wife?
See the photo that has fans on tilt.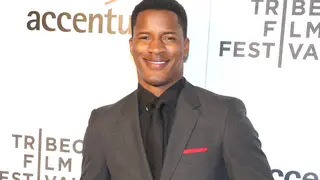 Why is Nate Parker, whose Nat Turner biopic Birth of a Nation is a leading contender for the Oscars next year, in hot water with Black Twitter?
Apparently, some "super woke" folks just "woke" up to the fact that the actor and director has a white wife. Parker and Sarah DiSanto, who have been together since college and have four children together, managed to stay under the radar for years, but somehow Twitter just got wind of the union and decided to go in.
It's not clear why this interracial relationship suddenly became an issue, but it could have something to do with the fact that Parker and DiSanto just shared the news that they've welcomed their fourth child, another baby girl, into the world (it actually happened over a month ago, which is another testament to how well these two have managed to stay off the radar). Perhaps the photos of the couple that accompanied the coverage of their happy announcement set some people off:
The comments have been unforgiving:
Others, however, are standing up for the Parkers, and calling out the naysayers for their double standards:
As we can see, Parker's newfound success (thanks to the insane amount of buzz surround Birth of a Nation) means increased scrutiny into his personal life. Thankfully, it seems like his marriage is on solid ground and should be immune to the hate.
Catch up with the hype around Birth of a Nation, which hits theaters this fall, with BET Breaks, above.