Commentary: The Power of Speaking Out About Bill Cosby
New York magazine's bold new cover is powerful.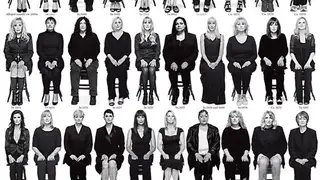 The article, which the magazine began working on six months ago, features 35 of the 46 women who have come forward to say they were sexually assaulted by Bill Cosby. It shows them on the cover, lined up in four rows, with one empty chair to symbolize the women who have not spoken out. Inside, there is an essay that gives the history behind the allegations. Online, you can click each woman's individual photo to be taken to her firsthand account of what happened.
It takes a long time to read 35 accounts of sexual assault. And it takes a strong stomach not to feel sickened by it. Drugged, groped, penetrated, assaulted, silenced. These are the words and themes on repeat here. The women range in age from 44 to 80 and the alleged crimes against them span more than four decades. The coverline reads "Cosby: The Women. An Unwelcome Sisterhood."
With this story, New York magazine has stepped into a new space of advocacy journalism. They are not exploiting these women, telling their stories just to sell issues — though it seems unlikely that this will not be the magazine's top-seller of the year. They are giving these women a voice and they are making it very hard for us not to look away. They are also telling these women who have been hushed — or who were too afraid to speak up — that they are believed and not alone. One woman, Barbara Bowman, told the magazine, "I could have walked down any street in Manhattan at any time and said: 'I'm being raped and drugged by Bill Cosby,' but who the hell would have believed me? Nobody, nobody."
Not believing her now would mean a refusal that hinges on misogyny to ignore the facts and testimonies that have come out — including Cosby's admission in a 2005 deposition that he obtained Quaaludes to give to women for sex.
Yet, there will still be people who claim these women have something to gain, though not one of them seems to be enjoying sharing her story. There are some who will still claim that rape is only rape if it involves a knife or gun, not a spiked drink. There are some who will claim that a few of these women spent time with Cosby after their assault, so they must have liked it. There are some who will say it is not rape if the person does not say "no," regardless of whether they were too drugged to speak or even know where they were or how they got there.
These people, the ones who will still defend a man who has mounting evidence against him that he is a serial rapist, these people are also sick. And they have failed to see that rape and rape trauma do not fit into neat categories that are easy to understand for those of us who stand on the outside in judgment, deciding if a woman is telling the truth when she is brave enough to step forward. Noreen Malone, who penned the essay that goes with the piece, was correct when she wrote, "The group of women Cosby allegedly assaulted functions almost as a longitudinal study — both for how an individual woman, on her own, deals with such trauma over the decades and for how the culture at large has grappled with rape over the same time period."
No one was prepared for what would happen last fall when Hannibal Buress called Cosby a rapist. After years of the media ignoring the case, it suddenly became news again. No one was prepared when first one, then two, and as of today, 46 women came forward — including celebrities Beverly Johnson and Janice Dickinson. And no one was prepared for NY Mag's cover story, the stark pain of seeing so many women in one place saying they were attacked by a man once billed as "America's greatest dad." There has been enough surprise around this situation to last a lifetime — the only one that needs to happen now is Cosby's speaking out in an honest way.



The opinions expressed here do not necessarily reflect those of BET Networks.


BET.com always gives you the latest fashion and beauty trends, tips and news. We are committed to bringing you the best of Black lifestyle and celebrity culture.
(Photo: New York Magazine, July 2015)