Bring That Week Back: Tekashi 6ix9ine Attacked, Justice For Ronald Greene And See Blac Chyna's New Look Without Face Fillers
Also, Uganda passes a disturbing anti-LGBTQ bill.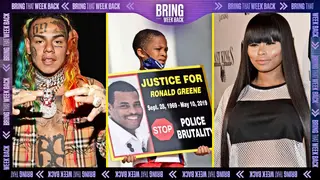 Rapper Tekashi 6ix9ine suffered a brutal beating at a gym in Florida. Justice for Ronald Greene hits another curve ball when a prosecutor says the gruesome attack by police had nothing to do with race. Also, Blac Chyna has debuted a new look. All this and more in Bring That Week Back.
Tekashi 6ix9ine Hospitalized After Being Assaulted At Florida Gym

Rapper Tekashi 6ix9ine has been hospitalized after he was attacked at an LA Fitness in south Florida. According to TMZ, his lawyer said he suffered injuries to his  jaw, ribs and back. A video shows the 26-year-old being stomped on by a group of men in a bathroom. The reason for the attack is unknown. In 2019, the rapper, born Daniel Hernandez, pleaded guilty to federal charges and admitted his involvement in a gang. He became a witness for the prosecution and was released from his two-year prison sentence four months due to the coronavirus pandemic in 2020.

Blac Chyna Removes Face Fillers

Blac Chyna has a new look and it's free of face fillers. Also known as Angela White, the 34-year-old said on her Instagram, "Enough is enough. It all has to come out. Back to the baseline. Honestly, I'm just tired of the look, and it's just not flattering, it's not what I look like. It totally changed my face." Earlier this month, she also removed her silicone butt injections, which she got when she was just 19 years old. See Chyna's new look above.

Prosecutor says 'F**king race Has Nothing To Do With' Ronald Greene Case

A 2019 video, originally obtained by the Associated Press, showed Ronald Greene, 49, being brutally assaulted by Louisiana State Police near Monroe, La. As Greene is tased and kicked, one cop can be heard saying, "I've got blood all over me, I hope this guy ain't got f*****g AIDS." The LSP's report said two officers pursued a vehicle being driven by Greene following an attempt to pull him over for an unspecified traffic violation. The pursuit ended when Greene crashed his vehicle, which the video proves not to be true. Five white police officers have now been charged. Prosecutor Hugo Holland, who once displayed a portrait of former KKK leader Nathan Bedford Forrest in his office, said in an interview with the Associated Press about the case, "Justice is justice. It doesn't make any difference what race the offender or the victim is. F**king race has got nothing to do with it."

Uganda Passes Draconian Anti-Gay Bill

Uganda has a history of anti-LGBT polices but their latest legislation is even more disturbing. The law makes same-sex relations possibly punishable by death and requires anyone who knows someone who is possibly LGBTQ to report them to authorities. However, these anti-gay laws has its roots in America, as Ugandan LGBTQ activist Richard Lusimbo told NPR,  "From the very start, this whole bill coming into Uganda was because of, for example, American evangelicals who would come to Uganda. And what's happening in Uganda is not just in isolation." Ugandan President Yoweri Museveni is expected to sign the bill into law later this month.

Trump Wasn't Arrested As Attacks On Manhattan Prosecutor Alvin Bragg Continues

This week, former President Donald Trump claimed he would be indicted and arrested due to hush money to adult movie actress Stormy Daniels in the final days of Trump's 2016 presidential campaign. Of course, he wasn't taken into custody but the right wing media, including Trump, attacked Manhattan District Attorney Alvin Bragg, who is Black and never said Trump would be arrested. Trump also called Bragg a racist for unknown reasons. In a March 21 statement, Bragg said, "We will not be intimidated by attempts to undermine the justice process, nor will we let baseless accusations deter us from fairly applying the law."

'John Wick' Star Keanu Reeves Gets Emotional Discussing Lance Reddick

On March 17, Lance Reddick, best known for  his role in The Wire and the John Wick franchise, passed away at 60 years old of natural causes. John Wick 4 drops today (Reddick did not appear in the fourth installment for unknown reasons) and the cast paid tribute to Reddick at the premiere. See Keanu Reeves get emotional talking about Reddick above.

New York Knicks Legend Willis Reed Dies At 80

On March 21, New York Knicks legend Willis Reed passed away at 80 years old. His cause of death was not released.  The former center was a seven-time All-Star and won two championships in which he was Finals MVP (1970 and 1973). Most famously, in May 1970, during Game 7 of theNBA Finals, he limped back onto the court despite a torn thigh muscle, which he suffered in Game 5. The Knicks' bid for the championship against the L.A. Lakers were in jeopardy without Reed's leadership on the court. The Knicks won the title. 

Tyler Perry's 'House of Payne,' 'Assisted Living' Returns To BET

Tyler Perry's House of Payne and Assisted Living returned to BET this week!  The tenth season of House of Payne premiered, along with season four premiere of Assisted Living. You can watch both House of Payne and Assisted Living on BET and BET Her. Also, if you need something a little edgier, you can stream Love You To Death, the new true crime series that shows what happens when abusive relationships turn deadly.