'Straight Outta Compton' Star Jason Mitchell Walks Back Support For Racist Roseanne Barr After Getting Smacked By The Internet
He changed his tune, fast.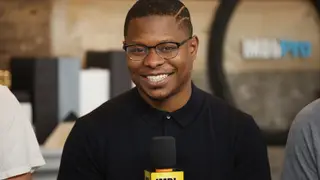 Since Roseanne Barr made those disgustingly racist remarks about president Obama's former aide Valerie Jarrett, no one in Black Hollywood publicly came to her defense, and rightfully so.
However, Jason Mitchell, known mostly for his roles in The Chi and Straight Outta Compton, proved that it was too early to call as he shared some positive words about the notoriously problematic comedian and actress to Entertainment Tonight.
During an interview at the 2018 BET Awards, he told the publication that he sees "no wrong on Roseanne."
"I think it's tough that society has come to a place where, like, we can't even take a joke anymore, you know what I mean?" he said. "I grew up on Roseanne and I don't see no wrong on Roseanne."
After ET correspondent Nischelle Turner warned him that he would receive a ton of backlash for that bold statement, he added, "I want us to all get along, you know what I mean? I think we should all be able to coexist and in the meantime, I'll be able to joke about it because it's funny." 
Take a look at the interview, below:
Shortly after the interview went public, Turner's warning became a reality as Mitchell was hounded with tweets criticizing him for his stance on what is clearly an indefensible action.

The scrutiny actually caused him to retract his words and issue an apology on his own Twitter page:

See how Twitter reacted to his initial comments, below: