Two NYPD Officers on Restricted Duty After Death of Eric Garner
Updates on the Eric Garner death after police placed him in a chokehold.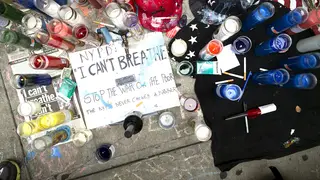 Two of the cops involved in the death of Eric Garner, who died after being placed in a chokehold by NYPD Thursday, had their guns and badges taken away, according to ABC 7 in New York.
Also, four Richmond University Medical Center EMS workers are restricted from responding to emergency calls while the response is being reviewed.

The two officers, one of whom placed Garner in the choke hold, were placed on desk duty, according to Police Commissioner William Bratton. The hospital workers were the first to arrive on the scene of Garner's death.
Garner, 43, was placed in a chokehold after being stopped by the police in Staten Island for allegedly selling untaxed cigarettes. Garner was later taken to the ground and died after shouting "I can't breathe!" several times on a video recording acquired by the New York Daily News.
Garner's funeral will be held on Wednesday, July 23, at the Bethel Baptist Church in Brooklyn. 
BET National News - Keep up to date with breaking news stories from around the nation, including headlines from the hip hop and entertainment world. Click here to subscribe to our newsletter.  
(Photo: John Minchillo/AP Photo)