Here's How Raven-Symoné Feels About Orlando Brown Getting Her Face Tatted On His Body
We don't blame you, girl.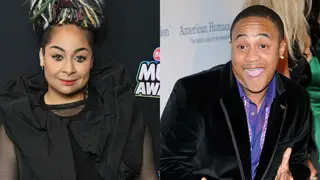 Orlando Brown recently took his infatuation with his childhood co-star Raven-Symoné to another level after showing the world that he got her face tattooed on his chest.
Since then, Raven hasn't said a word about the grand gesture, but once asked about it on at a recent red carpet event, she briefly shared her thoughts on the odd act — sort of.
Speaking with Entertainment Tonight at the 2018 Radio Disney Music Awards, the former The View co-host made it clear that she wanted no part in the awkwardness of Brown's behavior.
When asked what she thought of her former That's So Raven co-star's new ink, she quickly said, "I make of the second season of That's So Raven will be coming out July 25! Byeee!"
After playfully moving on to the next reporter in line with a smile, her TV son, Isaac Ryan Brown, pulled her back to clarify that, in the flustered moment, she meant to say Raven's Home, and not That's So Raven.
It's pretty safe to say that Raven wants no parts in Orlando's mess, and who can blame her?
Take a look at the clip, below: