Simone Biles To Wear 4 Different Dresses for Upcoming Destination Wedding to Jonathan Owens
The couple had one ceremony last week in Houston but also have a foreign excursion planned.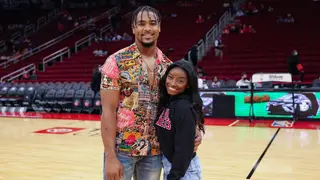 Turns out Simone Biles and new husband Jonathan Owens aren't done with their wedding festivities. The 26-year-old Olympian and 27-year-old Houston Texans safety tied the knot in a courthouse ceremony last weekend at a Harris County Courthouse. But, they aren't done celebrating their wedded bliss.
According to People, Biles answered some questions from fans on social media this week where she revealed that she and Owens have a destination wedding planned and that she is wearing four different dresses for the occasion.
"Kind of dramatic but you only have a wedding once," Biles wrote after a fan asked in a Q&A, "How many dresses are we gonna see?"
The wedding is slated to take place outside the country in "a couple of weeks."
As previously reported, Biles was radiant in a four-tiered wedding dress at the courthouse ceremony. The dress was designed by Selfie Leslie and Biles said it is not as elaborate as what's to come. "Everything was ordered this week … dress, wedding bands, shoes bouquet," the Olympian said regarding their rings and her shoes, which came from Amazon. "Not quite as prepared for courthouse ceremony as I am for the big wedding."
As usual, trolls took to Twitter to criticize Biles when she shared photos from the courthouse ceremony. There was chatter about the new wife's edges allegedly not being sleek enough for her wedding day. She wore her hair in a soft, curled ponytail to wed Jonathan Owens on April 22.
Biles responded, "I think they also forgot I live in HOUSTON TEXAS & I sweat those out!! Soon as we stepped outside for pics," she wrote. "But they can keep complaining idc idc idc."
According to Biles, the destination wedding will feature a champagne, gold and white color scheme, and will include eight bridesmaids, seven groomsmen and about 140 people in attendance, Biles detailed.
"We went so over budget that we decided there is no longer a budget," she shared in an IG story about the two separate weddings.
And in another Story, she added: "We are so lucky & blessed."