Hip-Hop Is the Most Dominant Genre in Music for the First Time in U.S. History
What a time it is to be a hip-hop fan.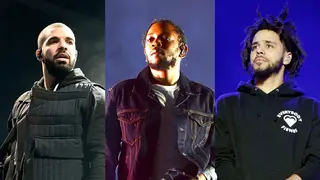 Move rock 'n' roll, get out the way. There's a new popular genre in town. Following a comprehensive mid-year report released by Nielsen Music, hip-hop has reportedly surpassed rock 'n' roll as the most dominant genre in the music industry. It's the first time in U.S. history that the genre has risen to the top of the musical food chain.
The annual report includes statistics for the combined genre of R&B and hip-hop. The genres reportedly make up 25.1 percent of all music consumption in the U.S., while rock only claims 23 percent of music consumption. The change in rank is most likely attributed to streaming services, which have reportedly played a huge factor in securing sales, according to Forbes. In fact, hip-hop is the most popular on streaming services, including Spotify and Apple Music, just above rock and pop music.
It should come as no surprise that hip-hop has rightfully taken its crown on top. In the past year, at least seven of the top 10 songs on the named streaming services are considered to be under the hip-hop/R&B genre, Forbes reports. More specifically, Drake became the most streamed artist in Spotify history in 2016 and Kendrick Lamar's latest album, DAMN., is reportedly the album that the entire country is obsessed with, the report states.
After being dubbed a fad or a thing of the past, it's probably great for all those in the hip-hop community to finally be getting the respect and recognition they deserve. It's official, hip-hop and R&B isn't going anywhere.