Tyrese Is Dropping Major Hints That His Marriage Is In Trouble
The couple of less than a year are expecting a child.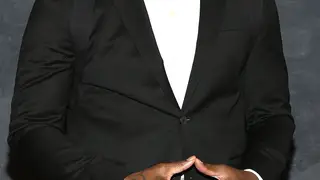 After telling fans that Will and Jada Pinkett Smith gave him $5 million to stay off social media and get his life together (which the famous couple has reportedly denied), Tyrese took to Facebook this time to make a new plea: powerful women, please support my wife! In his latest rant, he also indicated several times that his marriage might be on the rocks.
"Powerful women of God, cause you guys seem to show UP for each other this is your moment. I've always showed up for you. Your events your moments I️ am simply asking that you show up for my wife," he relayed through the video post. "So that I can stay married… my WIFE, who is now pregnant, is the new President of The Love Circle Foundation could really use some help…."
"You see this? Oprah, Elaine Wynn, Bill and Melinda Gates? Love angel Jada-Pinkett Smith Or maybe Priscilla Zuckerberg? Just asking…" he continued, linking to the Love Circle Foundation.  "I really wanna stay married… I REPEAT… I DO."
This then parlayed into Tyrese's second call. In the same post he claimed that his "lack of education" is what made him go "crazy" over his custody case.
That wasn't the only thing he blamed for his social media breakdown. The Fast and Furious star also took to Instagram and blamed his medication as a reason he went off color on IG.
"11:11 today here's my public apology – everything just changed Medication post I want you guys to know that to this day I don't drink, smoke or on any level do I do drugs," he wrote. "Because of this high stress and very traumatic experience I was advised then ultimately connected with multiple therapist and psychiatrist I had a few private meetings and this particular drug that was suggested although maybe helpful to others had an adverse effect on me and this is the reason I had a complete meltdown online."
Tyrese did say that he's off the drugs and it's making him think clearer.
"I'm in the clear now, this is being flushed out of my system and I'm already to get back at 100% – please don't chalk this up as 'oversharing,' he wrote. "A lot of people were effected by what these meds did to me over these last 2 months and this is my public apology a few I will make personally I'm so very sorry guys – please guys just know again this is not the Singer, actor this is Shayla's father……….. This will NOT compromise my case…."
Hopefully Tyrese and his wife get all the help necessary in every way.