5 Times Maxwell Proved He Was a Living Legend
The singer is this year's "Legend" recipient at the 2021 "Soul Train Awards".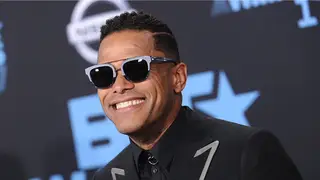 The Soul Train Awards takes pride in celebrating its brightest and most influential artists in the R&B and soul world. As part of an effort to give entertainers in the industry their flowers now, while they can still smell them, Soul Train Awards reserves the "Legend" award for veterans in the game whose influences in the sound and overall culture is evident.
The honor was first awarded to Charlie Wilson, whose tribute performances were carried out by  R&B duo KC & Jojo and Raheem DeVaughn. Chaka Khan, representing the ladies, was also a "Legend" award winner.
This year, the incomparable Maxwell is set to take the honors and we couldn't be more excited! Take a look below to see the five times Maxwell proved he was our living legend!
Neo-Soul Era

Spearheading a whole new genre alone gives you bragging rights. Along with acts like Erykah Badu and D'Angelo, Maxwell introduced fans to a new sound that fans would love for years to come, starting with his 1996 album Urban Hang Suite. Just 23 when he released his debut project, it's been at the top of the class of classic neo-soul projects ever since.

Don't Call It A Comeback

Maxwell has been in the music industry and breaking out hits since the late 90s. Even when he decided to take a seven year break from his artistry, he returned better than ever with projects such as the critically acclaimed  2009 album BLACKsummers'night, which rose to No.1 on the Billboard 200. It featured singles including  "Pretty Wings" and "Bad Habits and ultimately earned him his first ever Grammy award.

Experimental Phase

Though his debut album shattered all expectations, it would be his sophomore effort, Embrya, which took longer than usual to be released, that would show listeners there's a method to his madness and that he's more than just a singer but a musical architect.

This Man's Work Speaks For Itself

They say legends never die. Well, Maxwell, the living legend he is, gave us a track in 2001 that is sure to stand the test of time.  Covering Kate Bush's "A Woman's Worth," Maxwell pours out all of his emotions as he honors women's strength and courage in this soft ballad.

Style & Stage Presence

Who else can do it better in an all white suit and black lace top. Check Maxwell own the stage in this vintage Soul Train performance to "Sumthin Sumthin".

Watch the 2021 Soul Train Awards on Sunday, November 28 at 8 p.m. ET/PT on BET and BET Her.