Timbaland & Swizz Beatz's 'Verzuz' Sparks A New Documentary With Lena Waithe
"I'm grateful to Swizz and Tim for trusting us with something so historic," said Waithe.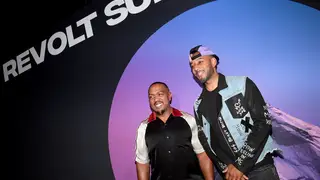 Verzuz has held the world down during the pandemic and helped many greats resurface to the forefront being introduced to a new generation.
From the early beginnings on with battles on Instagram Live that featured some of music's finest with Babyface, Teddy Riley, Erykah Badu, Jill Scott, Ne-Yo, Sean Garrett, T-Pain, Lil Jon to the larger than life productions featuring artists like Brandy, Monica, Gladys Knight, Patti Labelle, D'Angelo, The Isley Brothers, Earth, Wind, and Fire, Ashanti, and Keyshia Cole.
The celebration of Black culture and music continues to be the topic of discussion, and we'll be able to dissect the conversation even further as Deadline reports Verzuz co-founders Timbaland and Swizz Beatz are teaming up with Lena Waithe under her Hillman Grad Productions banner to bring a documentary to Amazon Studios called Gifted & Black.
The documentary, inspired by the webcast's journey, will highlight the traditions of Black music to connect, going from the plantation to the Pulitzer Prize. Set against the backdrop of the pandemic and the recent racial reckoning, Gifted & Black frames those traditions in the context of the collective resiliency fundamental to the Black experience.
While taking a deeper look into the now Triller-owned music phenomenon, the documentary will merge the roots of Black music, embedding in Black communities and with Black musical artists, through poignant interviews, gripping vérité, and magnetic archival footage, offering insights into how Black music continues to be uplifting and uniting salvation that endures through uncertain times.
Waithe commented in a statement, expressing her gratitude to work with Beats and Timbaland on this project.
"Verzuz is more than just two artists going song-for-song," said the producer.
"It's a testament to the power of Black people. It's the joyful celebration of the legacy that we all needed. With this documentary, we're excited to take audiences behind the scenes of this global phenomenon, while also paying tribute to the artists that shaped us. We could not be more grateful to Amazon for seeing the vision, and this film wouldn't be possible without our amazing filmmakers, James Adolphus and Ben Selkow."
The famed 49-year-old superproducer expressed how he and Swizz are excited for fans to learn the behind-the-scenes process of the enterprise they created while showing love to the artists who helped make Verzuz what it is today.
"Thank you to our entire team, Hillman Grad, James Adolphus, Ben Selkow, Amazon, Triller, and everyone involved," he shared
"Verzuz came from our love of culture and our love of music and the fact that it has become the force it is today is way beyond anything Swizz or I could've imagined."