Black Unemployment Fell to 10.4 Percent in December
The Black unemployment rate fell to 10.4 percent, down from 11.1 in November.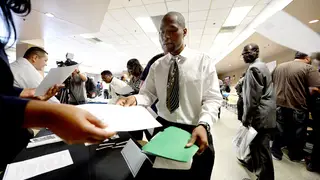 The last unemployment report for 2014 continued the year's overall optimistic trend. According to the Labor Department's monthly jobs report, the unemployment rate for African-Americans in December was 10.4 percent, compared to 11.1 percent in November. The national unemployment rate was 5.6 percent, down from 5.8 in November.
The Labor Department also reported that fewer people applied for unemployment benefits last week, which suggests strong hiring.
The economy added 252,000 jobs, which was higher than the 241,000 ADP, in its monthly report on employment trends, predicted and Reuters' estimate of 226,000. The service industry produced the most jobs, followed by professional and business services and trade, transportation and utilities.
"Today's solid employment report caps off a strong year for the U.S. labor market, which achieved a number of important milestones in 2014. Total job growth last year was the strongest since 1999, while the unemployment rate fell at the fastest pace in three decades. Although nominal wages fell in December, inflation-adjusted wages have generally been rising and job growth has picked up in sectors that traditionally provide good, middle-class jobs," said Jason Furman, chairman of the White House Council of Economic Advisers.
Furman also cited proposals announced this week by President Obama to increase access to community college, make mortgages more affordable and invest in manufacturing. He added that the president "looks forward to working with Congress and taking action on his own authority" on a variety of issues, including infrastructure, tax reform, job creation, trade, immigration and raising the minimum wage.
BET National News - Keep up to date with breaking news stories from around the nation, including headlines from the hip hop and entertainment world. Click here to subscribe to our newsletter. 
(Photo: Kevork Djansezian/Getty Images)