Look: Serena Williams Got Body Shamed by Haters for Wearing This
And Twitter went in.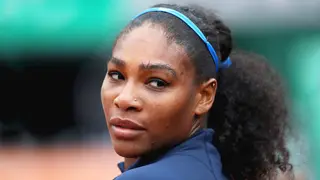 Serena Williams's haters don't have anything to say about her dominance on the court.
Perhaps that's why they're stooping to new levels of petty lows by body-shaming her for her outfits... and her nipples, to be exact.
While cruising past Elena Vesnina in the Wimbledon semifinals Thursday, Serena's critics actually resorted to saying that her nipples were too distracting in the match. You watching her serve, or her boobs?
You've got to be kidding... except these Twitter trolls were dead serious.
Take a look at Serena's outfit.
And now peep some of the more ignorant comments about it.
Of course, there were fans who defended Serena, too. 
Thank God there's some people who still have sense out there.
Anything to try to throw off greatness, huh?
If Serena successfully wins Wimbledon, it will mark her 22nd Grand Slam title, tying her with Steffi Graff and pulling within two championships of Margaret Court's 24 for the most in women's tennis history.
BET Sports News — Get the latest news and information about African-Americans in sports, including weekly recaps, celebrity news and photos of your favorite Black athletes.