Black Twitter On Stand By For Anyone Trying To Come For Sasha Obama
The former First Daughter's latest TikTok caught some attention.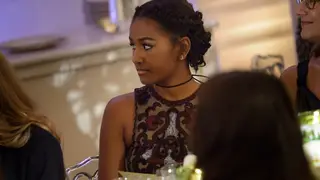 Sasha Obama is out here on social media, looking gorgeous and living her best life with her friends, and usually that's a cue for haters and racists to try to steal her joy. Sasha and her older sister Malia Obama are routinely scrutinized by right wing pundits and Twitter trolls for doing everyday, normal young adult things like wearing a bikini at the beach or cuddling with a boyfriend.
But this time, Black Twitter is ready and on the defense. After Sasha appeared in a TikTok video dancing and acting goofy with a group of friends (while also looking extremely fly in a set of long acrylic nails), hundreds of people on social media jumped out with a warning for anyone fixing their fingers to malign the 19-year-old daughter of Barack and Michelle Obama.
"Let me see one post slandering Sasha Obama because she's living her life...," one Twitter user wrote, while another added, "Our Sasha Obama looks happy, has a group of normal looking friends, and is simply beautiful. We're good over here."
See some hilarious tweets leaping to Sasha's defense, below: