Flex And Shanice Celebrate Their 23rd Anniversary With Throwback Photos And Heartfelt Messages To Each Other!
The lovebirds tied the knot in 2000.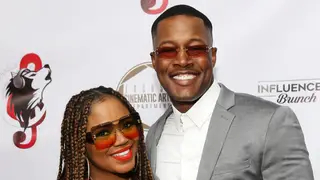 Flex Alexander and Shanice are in love! The married couple celebrated their 23rd anniversary on Sunday (Feb. 19) with throwback photos and heartfelt messages to each other.
"Happy anniversary @shaniceonline," Flex captioned an Instagram post that celebrated the milestone in their relationship. "Thank you for your love [and for] support our amazing babies (they're grown now)."
The actor and comedian continued, "Dopest hype wifey in the game, I love you to the stars."
Shanice also took to social media to express her love and appreciation for her hubby.
"Happy 23rd anniversary to my hubby @flexaforeal!!! Thank you for our beautiful kids...Thank you for always making me laugh" Shanice captioned a heartwarming photo from their wedding day.
The singer continued, "We've had our ups and downs... A perfect marriage is just two imperfect people who won't give up on each other. We're not perfect but we put in the work… I love you to the moon and back!!!"
Happy Anniversary to Mr. & Mrs. Knox!
FYI: The couple married in February 2000. They share two children; daughter Imani Shekinah Knox and son Elijah Alexander Knox.