Black Dunkin' Donuts Employee Who Killed Racist Pedophile For Using N-Word Won't Serve Jail Time
He pleaded guilty for his involvement in the death of an elderly man.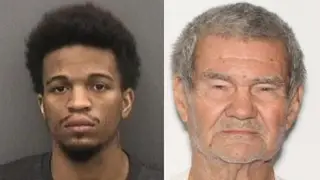 A Black Dunkin' Donuts employee is serving two years under house arrest, a consequence stemming from an incident involving a racist customer using the N-word and a fatal punch.
Barista Corey Pujols gave Vonelle Cook, 77, a life-ending punch after the customer used racial slurs on him while ordering through the drive-thru, Crime Online reports.
Cook parked his car and decided to enter the building to confront Pujols, who then told a coworker to call the police.
An argument ensued, and the white patron continued to use the N-word. Fed up with the man, Pujols delivered Cook a punch to the jaw, causing the elderly racist to bump his head to the floor.
Unconscious and bleeding from his head, Cook's skull got a fracture, and it suffered from brain contusions.
It was three days later that Cook – a registered sex offender whose house got swatted for possession of images and DVDs of naked boys in 2006 – succumbed to his injuries.
Although he was originally charged with manslaughter, prosecutors were convinced that Pujols' intentions were not murderous. Prosecutors also considered his age and his absence of a criminal record.
Pujols pleaded guilty to avoid felony battery. Following his two years of house arrest, he received three years of probation and is required to complete 200 hours of community service and attend anger management, The Tampa Bay Times reports.
"Two of the primary factors were the aggressive approach the victim took toward the defendant and everyone working with the defendant, and that the victim repeatedly used possibly the most aggressive and offensive term in the English language," said Grayson Kamm, a spokesperson for Hillsborough State Attorney Andrew Warren, according to The Tampa Bay Times.
While Cook was alive, he lured children to his hideout with video games, comics, and candy.
Cook sexually assaulted a 16-year-old boy on camera; he was released from prison in 2011.