Look: Tim Duncan Just Made a Shocking Announcement
A future Hall of Famer.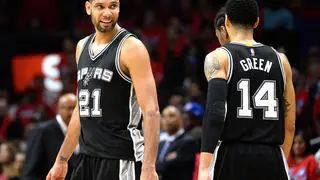 It's the end of the road for one of the greatest NBA players to ever play the game.
After winning five NBA championships and playing for the same San Antonio Spurs organization for 19 years, Tim Duncan announced his retirement from the league Monday. The announcement came in typical Tim Duncan fashion, as it was quiet just like the player and man himself.
In addition to the five rings to his name, the 40-year-old helped the Spurs to a 1,072-438 regular-season record, giving the squad a .710 winning percentage, which is the best 19-year stretch in NBA history.
All the Spurs could do was salute their franchise cornerstone and thank him for a legendary career upon receiving the news.
His NBA peers did the same.
Duncan's accomplishments speak for themselves.
Next stop...the Hall of Fame.
Congratulations on an unbelievable career, Tim Duncan.
BET Sports News — Get the latest news and information about African-Americans in sports, including weekly recaps, celebrity news and photos of your favorite Black athletes.