BREAKING: Tory Lanez Found Guilty In Megan Thee Stallion Shooting Case
The Toronto rapper faces more than 20 years in prison and deportation.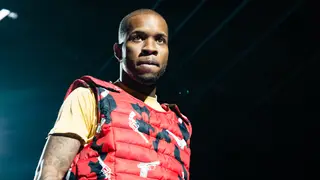 After 24 hours of deliberations, the jury in Tory Lanez's shooting trial involving Megan Thee Stallion found the Toronto rapper guilty of three felonies, including assault with a semiautomatic handgun, carrying a loaded, unlicensed firearm in a vehicle, and negligently discharging a firearm. He faces more than 20 years in prison and deportation, according to the New York Times.
"The jury got it right. I am thankful there is justice for Meg," Alex Spiro, Megan Thee Stallion's attorney, said to BET.com
The jury of seven women and five men began deliberations on Thursday after closing arguments were made Wednesday during which Deputy District Attorney Alexander Bott told jurors that Megan would never have subjected herself to abuse by the public if she wasn't telling the truth about being shot by Lanez in the feet during the summer of 2020.
On Thursday, the jury asked for a read-back of the testimony of Sean Kelly, the only eyewitness to the shooting who was not directly involved. Kelly was on a nearby balcony with his children at the time and said his concerns for their safety kept him from watching closely.
The witness was called by the defense, but both sides argued his account favored them. He testified he saw muzzle flashes that appeared to come from a woman, but also said he saw a small man "firing everywhere."
ABC News reports that the California prosecutor said during closing arguments that the jury should believe the Houston rapper's anguish and her courage in fighting through it, which was evident in her testimony last week. He also noted that jurors should also provide Megan with justice by convicting Lanez.
"Why would she lie?" Bott said, according to the news outlet. "She's been subjected to a stream of hate. For what? For coming forward as a victim of domestic violence?"
Lanez's defense attorney, George Mgdesyan, told jurors during his closing that Megan actually had good reason to lie, claiming her being victimized by Lanez was a much better public story than the embarrassing one he's alleging: Her former best friend Kelsey Harris shot her in a jealous dispute over the Toronto rapper.
"Megan Pete is a liar. She lied about everything in this case from the beginning," Mgdesyan said. "She lied under oath here."
Additionally, Mgdesyan claimed Lanez actually struggled with Harris to stop her from shooting.
"He was trying to protect her," Mgdesyan said before mocking the torment Megan has been through over the past two years. "It's been so bad for her. She's won Grammys. She's had number ones on the Billboard charts. You know who it's been bad for? That man right there," Mgdesyan added, pointing at Lanez. "He hasn't been able to work. He's had to go through this with his family for 2 1/2 years."
Friday marked the tenth day of public proceedings in Tory Lanez's alleged shooting trial in Los Angeles. Lanez was charged with three felony counts, including assault with a firearm causing great bodily injury, concealing a loaded, unregistered firearm in a vehicle, and discharging a firearm with gross negligence.
Also this week, prosecutors attempted to add two new witness tampering charges in relation to Lanez allegedly bribing both Megan and former best friend Kelsey Harris with a million dollars to keep quiet about the shooting. According to Rolling Stone, that motion was denied by the judge, who noted that prosecutors had known since September what Harris' testimony would likely have contained.
During the trial, Megan Thee Stallion, 27, testified that Lanez fired a handgun at the back of her feet and shouted for her to dance as she walked away from an SUV in which they had been riding in Hollywood Hills in July 2020. She would need surgery to remove bullet fragments from her feet.
Harris, who was also in the vehicle at the time of the shooting, denied being the shooter and previously identified Lanez as the one holding the gun.
Lanez will  be sentenced on Jan. 27