Denzel Washington Prayed With Will Smith After Oscars Slap
The acclaimed actor spoke out for the first time Saturday (April 2).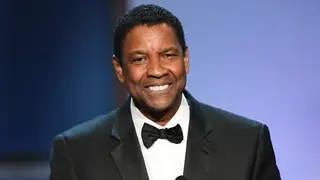 Denzel Washinton is making his first public comments about what happened after Will Smith slapped Chris Rock on-stage at the Oscars last Sunday (March 27).
On Saturday, the Oscar-winning actor appeared with author and pastor T.D. Jakes as part of his International Leadership Summit in a discussion based around Washington's career and faith.
During the panel, the conversation turned to the Oscars. Washington says that after the slap, and Smith's subsequent profanity-laced yelling at Rock, it was his faith that made him interject.
"There's a saying: When the devil ignores you, then you know you're doing something wrong. The devil goes, 'Oh, no, leave him alone. He's my favorite,'" he told Jakes, according to The Hollywood Reporter. "Conversely, when the devil comes at you, maybe it's because you're trying to do something right. And for whatever reason, the devil got ahold of that circumstance that night."
Washington also said that Tyler Perry and others came over to assist him in speaking with Smith, but declined to speak about what exactly was said between the men at the time.
"There but for the grace of God, go any of us. Who are we to condemn?" Washington asked. "I don't know all the ins and outs of the situation, but I know the only solution was prayer."
Just before presenting the award for the documentary feature category, Rock made a joke about Smith's wife Jada Pinkett Smith, saying, "Jada, I love you. G.I. Jane 2, can't wait to see it." Rock's joke was in reference to Jada's close-shaved head, a possible result of her recent struggles with the hair condition alopecia.
G.I. Jane was a 1997 starring Demi Moore who played a character that shaved her hair off during a vigorous U.S. Navy program. The popular film tackled sexism in the military.
After the joke, Smith, 53, walked on stage and slapped Rock. He returned to his seat and shouted at the 57-year-old to "keep my wife's name out of your f***ing mouth." Within the hour, Smith won the Oscar for Best Actor for his portrayal of Venus and Serena Williams' father Richard Williams in King Richard. During his acceptance speech, Smith did not specifically apologize to Rock. The incident reverberated across every corner of the internet, with many debating whether or not Smith was justified in his retaliation.