Problem Transforms From Performer to Producer
"Like Whaaat" MC proves he can rap and produce beats.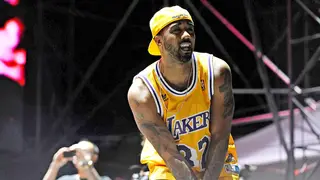 German-born, Compton-raised emcee Problem has been on the fast track to superstardom for years. His new DJ Holiday-hosted mixtape OT: Outta Town includes the hit "Hennessy," which is racing up the charts thanks in part to Rich Homie Quan, T.I. and a haunting Tupac sample, and that's only one of his successes.
All signs show that the 29-year old is picking up speed as his official project Diamond Lane America gets set to take off this spring.
Problem's résumé, for example, already includes an impressive array of collaborators and cult anthems beyond the ode to the cognac, and he feels he's gained enough momentum to make a lane switch into focusing on production. 
OT blends his new West Coast funk with flavors of Atlanta's legendary past and present, showcasing the proven hitmaker's versatility as he weaves seamlessly through Holiday's massive network of ATL's finest. With appearances from Future, Jermaine Dupri, Rich Homie Quan, Lil Jon, Two-9 and 2 Chainz, OT's concept is executed flawlessly, proving his recent turbo boost up the charts has been fueled by talent and not gas or gimmicks. His only problem now is getting his credit for shifting gears.
"Taking on the producer task has given me a new level of excitement," said the man who's already helped push E-40's "Function" and Rich Homie Quan's "Walk Thru" up the singles charts. And although Problem broke into the industry as a producer for Snoop Dogg (2009's "Upside Down"), he put his production on the back-burner to focus on performing. That decision was fueled by the simplest equation Problem ever had to solve. 
"I was a producer at first, but then I realized the producers don't get chicks, the rappers do. I've always [produced]; I just wasn't tripping 'bout the credits before."
Now he refuses to let doubters slow his roll as he reclaims his original role publicly. "Change is always good. I think people get confused when you change lanes to take your career to a new level."
The execution of OT, which the emcee executive produced, coupled with the success of "Hennessy," should clear up any confusion about his ability to fill both lanes and more. "Hennessy" came to Problem during a session as he waited for T.I. to arrive. 
"I was actually in the studio with Tip for the weekend, just to work, just to vibe. It wasn't for any particular record. One day he came late." As the cognac flowed, inspiration hit. "I was running around yelling, 'Hennessy!' So I did the song."
T.I. was grabbed by the record as soon as he heard it. "He was like, what the f**k is that?!" The next day I was scheduled to do a session with Rich Homie Quan. So he did that, then we did 'Walk Thru' right after that."
He's been holding onto the track for years because of how much he values every record. "When you really care about your music, you don't just put it out," Problem said of his patience. His long-term vision allows him to pilot his career from multiple perspectives. From artist to producer to A&R, he wants to explore all of his varied skill sets before his career is over. "I want to be known for everything. I've been blessed and had the opportunity to do a lot for my creator. I'm lucky."
The one thing he believes held him back in the past is himself. "My only struggle was self-inflicted," he said, admitting that he was hesitant at first to flaunt his producer ambitions because he didn't want to be compared to his hometown hero DJ Quik. "I just know being from Compton, and DJ Quik being from Compton, I just wanted to carve my own lane."
Diamond Lane America will be his official chance to cut loose. "It's a perfect representation of my group. We're verbally voicing our opinions in a way that most people are afraid of — it will be 'in your face.'" The successful take off of OT was not only an indicator for his fans, but Problem as well, he explained. He's sure as ever that he has hip hop's answers.
"OT was an exciting challenge for me. The fact that I could get the big names and up-and-coming names on one project, man, shout out DJ Holiday. That showed me I got a whole city of MF's that's f**king with us," he said.
Whatever road the rapper/producer chooses to hit next, don't expect Problem to slow down anytime soon. 
BET.com is your #1 source for Black celebrity news, photos, exclusive videos and all the latest in the world of hip hop and R&B music.
(Photo: Michael Tullberg/Getty Images)