'Afraid of the Dark' Documentary to Explore Black Male Stereotypes
A new documentary called 'Afraid of the Dark' is set to explore stereotypes associated with Black masculinity.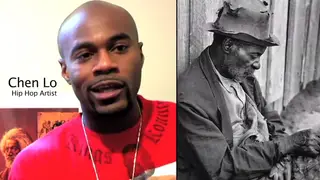 Filmmaker Mya B is analyzing the stereotypes that damage Black masculinity in her new documentary, Afraid of the Dark. The film is set to make its rounds at film festivals this year, according to Indiewire.
A film of this kind could not have been more timely with the recent murders of Trayvon Martin and Jordan Davis. The cases have stirred frustration as many believe they are present-day examples of Black men not receiving due justice from the legal system. 
A trailer for the film features a diverse set of African-American men from across generations and educational and occupational backgrounds speaking on their experiences facing racism.
Mya B says the film will explore two stereotypes often used to label Black men, including the "Mandingo" — an exotic view of the Black man — and the "Brute," a savage and violent perception of them.
"I also wanted Black men to receive their glory outside of all the bad things you hear in the media and profile the amazing Black men I know and who are in our communities," Mya B said. 
A video of the trailer can be viewed here. 
BET National News - Keep up to date with breaking news stories from around the nation, including headlines from the hip hop and entertainment world. Click here to subscribe to our newsletter. 
Follow Natelege Whaley on Twitter: @Natelege.

(Photo: Afraid of The Dark Film)