Mariama Diallo: Crafting A Director's Cut Of Success In The Heart of NYC
Her latest project, 'The Other Black Girl,' is currently streaming on Hulu.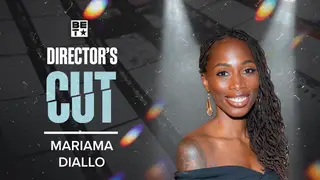 In the bustling, diverse streets of New York City, where dreams are woven into the very fabric of its existence, one visionary filmmaker stands out as a beacon of creativity. Born and raised in the city that never sleeps, Mariama Diallo, 35, has emerged as a distinctive voice in cinema. Her latest project, "The Other Black Girl," which she directed, has garnered widespread acclaim and is now available for streaming on Hulu. In this week's Director's Cut feature, we delve into the life and artistry of this remarkable director, exploring her journey from the iconic streets of New York City to the silver screen.
BET: When did you first fall in love with film?
Mariama Diallo: There's a very specific moment that I can trace back to when I decided that I wanted to become a director. I was in ninth grade, and I just declared to myself that I was going to be a film director. On my way home from school, I stopped at a Blockbuster video that was going out of business, and they were selling off their stock. I bought some DVDs of what I had a loose idea were art films. I watched them, and I was struck by each one. I fell in love with the idea of filmmaking. From that point on, it was my singular goal.
BET: How has New York shaped your love for filmmaking?
Mariama Diallo: New York is incredible. I say this, obviously as a true partisan, I think that it's shaped my love for filmmaking in so many different ways. The most immediate level, access to cinemas that show outside of the mainstream, multiplex offerings. All my life, I've had the opportunity to see incredibly rare and less popular films. On the other hand, I think that New York is a great place to be a filmmaker, because there's just so many people. I'm nosy. I'm a huge eavesdropper. I love to people-watch, and I love to listen in on conversations. I truly think that has informed me as a writer, being able to write realistic dialogue, and also being familiar with an incredible diversity of people.
BET: So you did several shorts, but  "Master" starring Regina Hall was a big moment for you. What was your vision behind the lens for that project?
Mariama Diallo: "Master" was an incredibly personal project for me, and it's something that I started writing probably about eight years ago or so when I recently graduated from college. I wanted to reveal a particular truth about my experience and observations. I also wanted to do it in the style of the emotions that it evoked -- it's visually a very austere kind of film, the camera movements are, by and large, very slow or static; I really wanted to call to mind that very frozen Northeastern atmosphere. It was a really interesting process, just thinking about how to bring those memories, imaginations, and inventions to a story in a visual way.
BET: "The Other Black Girl" is currently on Hulu. I see some connections in "Master" and "The Other Black Girl," as far as Black women's storytelling.
Mariama Diallo: You're absolutely right. There are connections and commonalities between "Master" and "The Other Black Girl." I would probably imagine that at the heart of it is that there are shared experiences and histories between myself and Zakiya Dalila Harris, the creator of the series. Despite being our own people, there are similar traumas that we both emerged from and were kind of similar points in our lives of trying to unpack and understand. The shape it takes when rendered onto this screen and into a story is similar. Just knowing Zakiya and having spoken to her about her experience in publishing, there was a lot that was reminiscent of my own undergraduate college experience and the pressures and insanity of being incredibly isolated in very white spaces. It reaches an absurd level very quickly. [Laughs] I think that it almost behooves the story to take some kind of genre turn beyond the drama because it can sometimes feel like drama is not enough to render these experiences.
BET: We are all the directors of our own life. What does the director's cut of your life and your journey look like thus far?
Mariama Diallo: The director's cut of my journey is almost like an iceberg. The largest portion of my journey working in Hollywood came before I ever worked in Hollywood. I spent my 20s writing screenplays, making experimental documentaries, making short films, and putting in immense amounts of legwork for projects that will never be seen, scripts that will always stay on my hard drive -- that was the most important part of my career, probably. "Master," I think, was the sixth feature-length screenplay I wrote. Before then, I was in Brooklyn in a writer's workshop, slowly developing my creative voice. I wouldn't change it; once I reached a certain benchmark in terms of short films, things began to accelerate rapidly. So, I would say it's a good eight years of toiling in obscurity, and then a rapid seven or so years of short film, festivals, and things escalated really rapidly.