Director's Cut: Albert Hughes' Journey Crafting Cinematic Excellence
From "Menace II Society" to "The Continental: From the World of John Wick," this Detroit filmmaker has changed the game in Hollywood.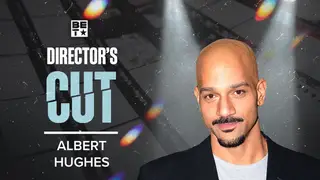 In filmmaking, some directors can uniquely transport audiences to the heart of their narratives. Albert Hughes and his brother Allen Hughes are visionary filmmakers whose artistic prowess has illuminated the silver screen for three decades. As we celebrate the 30th anniversary of the groundbreaking film "Menace II Society," co-directed with his brother, we embark on an exciting new chapter in his career. In this week's Director's Cut feature, Albert Hughes discusses his latest project, "The Continental: From the World of John Wick," a prequel to the iconic John Wick franchise that debuts on Peacock today (September 22), and his cinematic style that has left an impression on moviegoers around the world.
BET: "The Continental: From the World of John Wick" is a prequel. Tell us about this series, which is currently streaming on Peacock.
Albert Hughes: It's a very exciting expansion of the world because you can go back in time. This goes back 40 years and tells a story of how a young Winston Scott came to control the continental New York, the hotel for assassins. It also opens up this wonderful opportunity to explore new characters.
BET: What do you think it is about John Wick that resonates with so many audiences?
Albert Hughes: For Black audiences, traditionally, it's a little secret in Hollywood that we've all known for a while is that Black audiences are great moviegoers. They love the movies. They make up a large percentage of action movies and genre movies. If you've ever seen a movie with an all-Black audience, it's an interactive experience. They're there to have a good time, which I think they appreciate about John Wick. They love that it's hitting all their little funny bones. They know it's not taking itself too seriously. I think that the Wick filmmakers are winking and nodding at the audience, all of the audience. But in particular, I think the black audience appreciates it.
BET: You were born in Detroit and raised in Los Angeles. How did Los Angeles shape your love for filmmaking?
Albert Hughes: I don't know if L.A. ever did, I would say that Detroit did more. Detroit did more because of Motown and the way it looked and the dream of going to Hollywood. When you come from the midwest or any small town or city and, thinking two things -- when we were little, we told our mom we want to move out west to be cowboys first, right? We were just silly kids. The other one was we thought we were going to be actors. So we wanted to move out to Hollywood to be actors. Little did we know that we'd be handed a video camera 12 years old and that we would go behind the camera. Thank God because we're not pretty to look at. [Laughs] Also, when we were children, we loved behind the scenes. To this day, when I see a movie shooting, I still get that giddy feeling I had when I was a boy.
BET: This year marks 30 years since "Menace II Society." This film is iconic. When the movie originally came out, it received tons of backlash for being too violent; now it's considered a classic. Thirty years later, what are your thoughts on "Menace II Society"?
Albert Hughes: It's kind of a jumble of things. Back then, they used to release Black, violent movies on Wednesday, thinking that people wouldn't show up with guns because it's Wednesday. [Laughs] It was silliness back then. Wesley Snipes and other Black stars couldn't have a gun in the poster back then. The MPAA, which controls the ratings in the movies, would somehow not give you an R rating because they thought the movie was too violent. And it wasn't, it was subconscious racism; they saw a Black man with a gun shooting somebody else and they were terrified. We were dealing with a lot back then. On the flip, the critics were very kind to us. We made all the top 10 lists; we went to the Cannes Film Festival, we were quite shocked because we felt like we didn't make the movie we'd hoped to make. Then we started seeing the response, and the response was the response we wanted from the movie we had hoped to have made. It took us many years to digest the fact that the movie is good. You know? It gave us our career, but what are people responding to that they liked so much because all we see is our mistakes.  Three days in the shooting, we thought we were doing so badly that our careers were over. So, we were sleepwalking through the rest of the shoot. We thought -- we'll never make another movie again in our life.
BET:  One of my favorite movies is "Dead Presidents." It's so relevant today with the way Black veterans are treated. What are your memories of  "Dead Presidents"?
Albert Hughes: In "The Continental: From the World of John Wick," there's a nod to that. There's a speech in episode two about Vietnam. "Dead Presidents" was interesting because we were given everything - final cut, they were showering us with love. But we have a lot of regrets about that movie; we felt like we ran into it too quickly. We didn't have enough time to let the script justate. We made a few key mistakes with the characters. We have some regrets about the shootout at the bank and killing all those guards that were innocent people. [Laughs] Although it was based on a real story, I have regrets that I was influenced by Hong Kong cinema, and I had a girl jumping out of a trash can using two guns, that's not how you should go about committing that type of crime. There's the positive stuff, which is New York and the fun we had there and the embrace of people who don't hate -- there's more haters in L.A., New York, they shower you with love if they respect you, and they support you.
BET: We are all the directors of our own life. What does the director's cut of your life and your journey look like thus far?
Albert Hughes: The director's cut would be, be yourself, say what's on your mind. It may cost you if you have no filter, but if you lose yourself, you have a problem. There's an old expression I'll leave you with: if you stand for nothing, you fall for everything.