Jeannie Mai Returns To 'The Real' After Throat Surgery
"I'm ready to be back here working every day."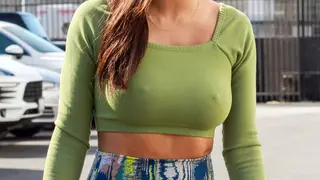 Jeannie Mai returned to The Real  this week (November 24) after emergency surgery for a rare condition affecting her throat called epiglottitis, which causes swelling and blocks air to the lungs. Joining co-hosts Adrienne Hough, Garcelle Beauvais and Loni Love, Mai looked overjoyed to be back on air and healthy. 
"You don't understand, I want to group hug everybody!" the 41-year-old exclaimed. 
"You guys kept me company every single day. I've never really watched our show from the couch, you know what I mean? So I was able to binge-watch everything. I played along the games with you guys, I loved glam every day. It was so good."
She continued, "Yo, I'm ready to be back here working every day. I'm, like, kissing everything. I'm ready! Anybody out there who knows what it's like to be sick, where you can't do anything. You can't talk, you can't move ... it's the worst feeling ever. So I really thank you guys for holding it down and just keeping me company. And Real fam, I've got all of your messages. I'm back. Long-winded is in the house. Do something 'bout it, she's back!"
"We already know how precious health is, but I am a workaholic, and I do prioritize my work more than my health. In this situation, I absolutely kind of just thought, taking a steroid shot, or just taking Theraflu or Dayquil would help cover it, because I was in a competition, yo, and I was not going to let down. I really took that too seriously more than my health, and then God taught me a lesson," she said.
"So the part of getting sick wasn't the upsetting part; it was actually just being depressed, because I let myself get to this," she continued. 
"For the last few weeks, I gotta be honest, I was pretty upset at myself because everything ended. I stopped shooting my favorite talk show every day and I had to step out of a competition, which is, I feel like I was doing good and I could have stayed in the running. But I had to give up!"
Mai woke up one morning and couldn't breathe, which was caused by a throat abscess. Thankfully, her surgery went well, however, if she would have waited one more day, the results could have been life threatening.
Watch a clip from The Real below: