Keke Palmer: Celebrates Son, Opens Up About Struggles Of Motherhood
The new mother said it hasn't been easy and praised parents who do the work alone.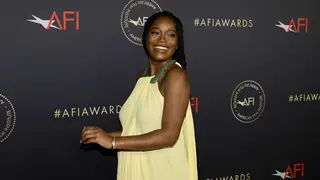 Keke Palmer and boyfriend Darius Jackson welcomed their son into the world last month, and the actress is sharing her honest opinion about motherhood struggles, as well as giving a nod to single parents.
Palmer, 29, took to her Instagram on Friday (March 3), reflecting on motherhood during the first few days and becoming a bit overwhelmed with emotions.
"But when it comes to raising a kid, I've already learned in these short few days that it takes a village," she shared. "And sometimes that's a privilege. And I just want anybody out there that's a single parents that's been doing this—friends of mine, people that I don't know, family members of mine—really in my heart, it brings tears to my eyes. I am just truly, profoundly impressed."
Palmer acknowledges her own struggles as mother so far and gives flowers to single parents, saying, "I don't know how you guys are doing it."
"If you're a single parent, pull out your cake," she said. "Matter of fact, clip off your angel wings."
On Feb. 27, she announced the birth of her son,  Leodis Andrellton Jackson, writing in the IG caption, born during Black History Month, with a name to match!"
In December, Palmer hosted Saturday Night Live and announced her pregnancy.
The Nope star acknowledges the various ways why someone is a single parent and notes she is not "pandering" with her IG post. She's aware that a single parent might have "lost somebody," "don't want to deal with somebody," or made a "choice" to be a single parent.
Palmer captioned the video, "I ain't gon' lie, I'm gettin' COOKED!," which is taken from boxer Adrienne Broner's interview.