What 'Swarm' Has to Say About Toxic Fandom
The series sheds light on the toxicity in some fan populations.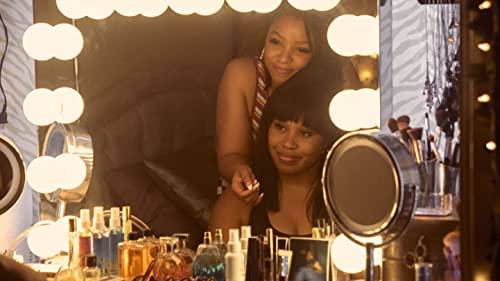 At face value, Swarm is about a disturbed woman named Dre, played by the always-great Dominique Fishback, who goes on a murderous rampage to connect with her favorite artist, Ni'Jah. The Prime Video series, from Atlanta creatives Janine Nabers and Donald Glover, seems to delight in playing with perceptions and expectations, toying with what we know, think we know, and want to believe.
Despite the title, the show's ever-present buzzing sound, and the bee emoji seen throughout, Nabers and Fishback have repeatedly said Swarm isn't about the [redacted]hive. Yet episodes open with a disclaimer: "This is not a work of fiction" and "any similarity to actual persons, living or dead, or actual events, is intentional." Like Atlanta, Swarm often revels in ambiguity, avoiding making any grand statement in favor of boundary-pushing creative expression from a distinctly Black imagination. And while Swarm hardly aims to make any explicit cultural critique––it's really more of a silly-scary blood-soaked sojourn––it is a study in toxic fandom gone to its most insane zenith.
Swarm, Nabers has said, takes inspiration from things that really happened IRL: Marissa Jackson (played in the series by Chlöe Bailey, is the name of a woman who, according to an Internet rumor, killed herself when [redacted's] came out in 2016––distraught because her man cheated on her, too. That turned out to be an urban myth. But the fact that it could be believable, and that make-believe Marissa inspired a character in Swarm says so much about how fandom operates today and how people find community in entertainers who appear to represent what they want to believe.
The lengths fans go to protect, defend, or be near a star can be funny from a distance––SNL's "[redacted]gency" sketch from a few years back is perhaps the best example ever––yet, as Swarm depicts, fandoms can get downright scary. Ask Rachel Roy, who was harassed so much by [redacted] fans when they thought she was "Becky with the good hair" she eventually asked for protection from the LAPD. Or Nicole Curran, the wife of Golden State Warriors owner, who got death threats for invading the personal space of [redacted] at a game. In Swarm, Dre finds out where a MAGA-loving, Ni'Jah-hating white woman lives by going on Twitter, where a swarm member posted the woman's address. This type of privacy-invading doxxing is an everyday occurrence now, yet a disturbing phenomenon with terrifying implications for anyone who becomes famous for any reason.
Obviously, fans like these and like Swarm's Dre are disturbed, but that's only one factor of many that contribute to the fanaticism that we all accept as normal now. Eminem canonized the idea of the "Stan" more than 20 years ago, well before the internet and social media; it's safe to say that neither Em nor the fictional Stan could've imagined how the world we live in would create a breeding ground for that type of obsessive behavior to thrive. It's never been easier to manufacture an image and convince the public that the persona created is authentically true to life. There's never been this much media to consume, available all the time, or such polished and professional likeability machines, teams of people, working round the clock to sustain a fantasy. And with so many facets of contemporary life so unbelievably paralyzing, it's understandable how and why so many resorts to escapism through celebrity worship, and community through fandom.
Swarm's masterstroke of storytelling was to show not just what Dre did but why: we learn over its seven episodes that Dre is a profoundly broken person with no handle on her own emotions or who she even is. She's lost. Ni'Jah means more to Dre than Dre means to herself. And while most folks who linger on celebrity fandom sites or say mean things to strangers on the internet would never go as far as Dre, the motivations are the same. Watching Dre, we know that no reasonable, well-adjusted person would throw their life away to hunt down people to defend a famous person they've never met, but Swarm gently suggests the same could be said of the less violent but nonetheless toxic fans too. What's going on in somebody's life that they'd spend hours clapping back at an unknown person on behalf of a celebrity they've never met, whose only real connection to any of us is a carefully constructed image? As Swarm details Dre's backstory, we uncover the wounds that fuel her insanity; in the real world, we'll never know why someone would issue a death threat over a celebrity on Twitter or Instagram but it's fair to say they're trying to fill some type of emotional hole too.
Swarm doesn't feel like an attempt to make us ruminate heavily on the more corrosive parts of pop culture––most reactions to it have rightfully been gleeful enjoyment of its off-the-wall action, gory violence, and Fishback's stellar acting. Yet it would be a shame to allow its subtly resonant messages to fly by without unpacking what it says about celebrity culture, fandom, and the ugly bullying "Stans" have normalized.
Fandom can be wonderful, but fandoms can also ruin what should be fun, sometimes making it hard just to watch a show or listen to the music without considering how a comment or critique can potentially make your whole life unravel. Dre is an extreme example of how nasty and unhinged fans can be, but the scariest thing about her might be how much like her a lot of fans really are.