'Swarm' Stars Chlöe Bailey and Dominique Fishback Talk About Steamy Scenes
The cast and creator also chats about the tone of the upcoming series and pushing the envelope for diverse Black storytelling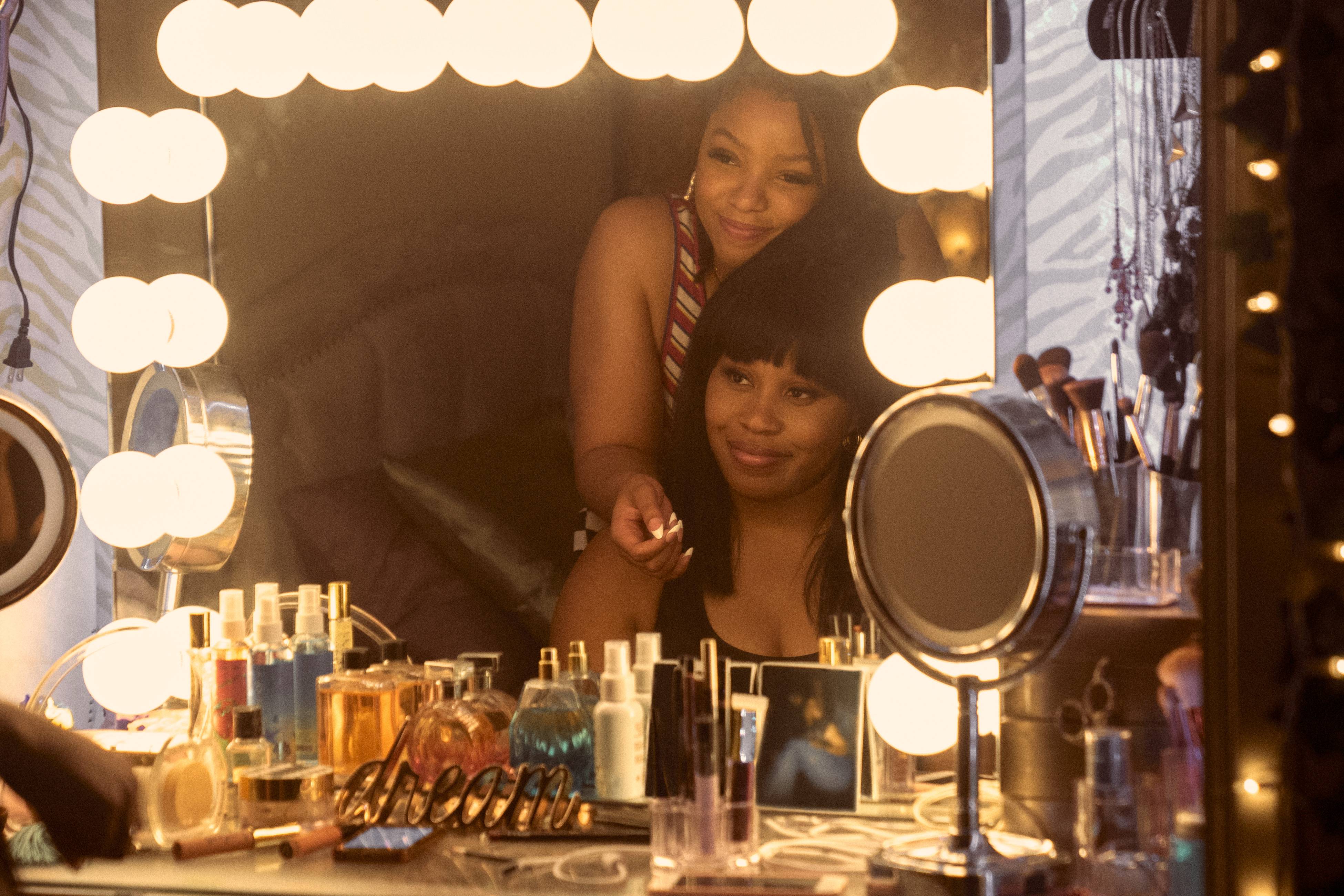 Black Twitter will have a new show to discuss when Prime Video's new series Swarm, from the minds of Donald Glover and Janine Nabers (Atlanta), airs this week. The series stars Chlöe Bailey, Damson Idris, and Dominique Fishback, who plays Dre, an obsessed fan who goes to extreme lengths to meet her pop star idol and ends up taking a few twisted turns along the way.
Bailey, Nabers, and Fishback spoke to BET.com about the series, the sex scene between Bailey and Idris, and the importance of telling other Black stories outside the norm.
BET.com: A Black actress leading in a horror thriller series is a rare sighting, but this show will begin to break those barriers. What are your hopes for the horror genre in terms of inclusivity and creating a space for Black actors to thrive? Do you feel the series will impact it in any way?
Nabers: I hope so – this is a big swing for a place like Prime Video. We want people to take big swings and champion Black storytelling outside the norm we're used to. We need to shake things up and this is what this show is for us. We wanted this show to make some noise – Dominique Fishback is an incredible actress who gave everything for this role. We took real events and put this incredible woman at the center of it – we're happy this show exists and we can't wait for people to see it.
BET.com: Twitter is definitely going to talk about the opening scene between you and Damson Idris. How did you prepare for that scene and keep it together?
Bailey: We can't really "rehearse" that but I have to give a lot of credit to the show and [Damson] for being respectful – as sexually liberated as I am, I've never done a sex scene before nor do I have many sexual partners so I'm very nervous. When I first read the script, my focus was on Marissa and using her as a vessel to represent the people who hold on so much and break down and can't take it anymore because I resonated with that. We had a bouncy ball in between us and none of us felt each other parts – it was three or four takes and we were laughing the whole time as we were joking for most of it. I'm grateful there were so many women in place of power for this and Donald was super respectful as well to where – yes, it's a sex scene and a hidden love triangle but done tastefully and it was shot on film.
BET.com: Is there a celeb that you look at the way that Marissa looks at Khalid?
Bailey: Yes I do – but I'm not telling you [laughs]. Let me tell you somethin' – there are some beautiful men out there, but, I'm too much of a nerd to approach them and I'm focusing on the record.
Fishback: Well, I'm open to receiving my divine masculine and he's coming for sure [laughs].
BET.com: The cinematography is outstanding in this series. What tone and feel did you want viewers to have when watching Swarm?
Nabers: Our cinematographer, Drew Daniels, did an amazing job and he's done so many incredible films including Red Rocket. Donald and I are huge Criterion Collection fans and we studied a lot of movies when discussing the aesthetic of the show. Every episode was shot on film, which had a dark, moody vibe – very real and cinema-like for the series. We were into Michael Haneke, who is an Austrian film director who made amazing German and French films with Piano Teacher being one of them and one of our favorite films. We love the uncertainty in how this story was told and you sit with the character, thinking you understand her but you realize you don't understand her at all. You might see parts of her humanity, but sometimes you don't, and sitting in that discomfort, polarizing energy and understanding what that makes you feel like. I'm putting that at the helm of a stand who is trying to get to the star that she loves and it's the blueprint for the story in a lot of ways.
BET.com: What's one thing you would like to be "swarmed" with this year?
Nabers: This is the first show that I've created so I would love to be swarmed with more weirdo shows from Janine Nabers on television [laughs].
As we wait for more stories from the pen of Janine Nabers, take a stab and watch her new series, Swarm, which streams on Prime Video on Friday, March 17th.
---
This interview has been edited for length and clarity
Ty Cole is a New York-based entertainment reporter and writer for BET.com who covers pop culture, music, and lifestyle. Follow his latest musings on Twitter @IamTyCole.