Meet Erin Ashley Simon: One of the Most Influential Black Women in eSports
This multimedia personality, host, and part-owner of XSET is steering this multi-billion dollar ship called eSports.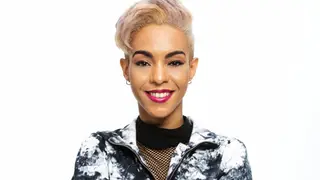 Streaming Fortnite or Grand Theft Auto Online sessions on platforms like Twitch and competitive esports has evolved the video game industry past something simply niche. According to reports, 54% of all live streaming content is gaming/esports-related. One person who understands that now more than ever is Erin Ashley Simon. The New Jersey native spent her spare time gaming when she wasn't playing soccer competitively as a child.
"Sega Genesis with Sonic the Hedgehog was the first video game I've ever touched," said Simon. "I would be training and then a lot of the traveling I did when I was young was for soccer tournaments. And so during those off times, I would play video games and I would play them with my older brother."
By the time she evolved into a high school athlete with college prospects, Simon began to connect with communities around the world during the rise of Xbox Live while getting her journalistic feet wet through her own sports blog Box of Mess.
Playing collegiate soccer at Rutgers University for a year before transferring over to the University of Kentucky, an injury stopped her plans to go pro. Simon would later have a short stint working at Revolt TV and eventually found herself within the esports broadcasting world. This included covering NBA 2K for Twitch and Red Bull alongside landing a co-hosting slot on Cheddar Esports. According to Simon, one thing that she learned from sports was that there was always room to get better.
"I didn't go to school for broadcasting," Simon explained. "It's something that I had to train in as I also trained with professionals and I also learned on my own. My career trajectory is solid and it's moving because of the discipline and that competitiveness that I have from sports. I am competitive in a sense like, "Oh, you all think I ain't good enough? Okay. Let me prove you wrong."
Taking things a step further, Simon collaborated with esteemed video game and entertainment industry executives including DJ Clinton Sparks, Marco Mereu, Wil Eddins, and Greg Selkoe to create an esports organization called XSET. Calling themselves "the world's most diverse, innovative, socially conscious pop-gaming and esports 'SET' ever assembled," the company has signed a diverse group of various professional esports players and streamers in popular games ranging from Fortnite and Call of Duty: Warzone to Madden NFL and Rocket League.
"We felt this was a step towards trying to solve a problem and address an issue that we see," said Simon. "And where it currently stands it's like we're over one year old, we've had some really good talent, content creators, pro players. The great thing is we're showing that you could be about inclusionary initiatives and also compete."
This includes being more culturally inclusive as well. Simon mentioned how video games and hip hop not only grew as subcultures but where they both intersect.
"Hip hop was and still is influential amongst all different kinds of communities," said Simon. "So not only were you elevating the stories of those in the Black community, but you also were elevating that there are different points of interest."
Having a Black woman as co-founder and face of an esports organization steeped this far in Black culture and video game culture is nothing short of revolutionary. Simon pointed to an era before music streaming and playlists became a route for artist discovery. Since the start, XSET has gone on to collaborate with hip hop-focused music festivals like Rolling Loud and directly with artists like Ozuna.
"Some of the most impactful video games brought music into the house of those who otherwise wouldn't have gotten it," explained Simon. "Look at 'Madden,' 'FIFA,' and 'Tony Hawk's Pro Skater.' Even 'Grand Theft Auto 3,' that was the first time I came across Royce da 5'9 and other artists. Very much like gaming, I grew up with these subcultures and now they are pop cultures, and essentially they're like lifestyles."
Besides highlighting various men and women of color within the streaming and esports aspects of the video game industry, Simon also mentioned that XSET is also about ownership. Over 50 percent of individuals who are part of XSET's ownership group are people of color and more specifically Black and Latino. Be mindful, Black professionals only make up 2% of professionals within the video game industry.
"We also made sure that there was an importance on that aspect because ownership is one of the most important things to help underserved communities," Simon explained. I'm a firm believer that it's not just about handing out checks. The money does help to alleviate some things, but it doesn't solve all problems. Especially for me, I'm always big on generational wealth."
This is due to XSET's three most important pillars as an esports organization which include "financial support, amplification, and resources and information." From Simon's perspective, giving opportunities and resources to underserved communities doesn't mean taking away from others but helps create more opportunities for everyone.
"When it's done correctly, it diversifies competition, revenue streams because esports is not as profitable as people think," explained Simon. "It also allows for us to find more of the best of the best. Whenever I try to discuss diversity and inclusion, I always try to say it's not about hate. It's not about taking something away. It's about supporting those who are underserved, who can add more value and add more opportunities because we're helping with opportunities. And then it just creates more opportunities for various different people."
Expect to see more of Simon on various broadcast networks as she continues to invest more in various companies and platforms that she'll announce soon. Helping to create more opportunities and conversations about ownership and diversity initiatives within the video game and esports industries, she also continues her goal of more inclusion in esports through her University of Kentucky Esports Internship Fund.
As PWIs and HBCUs from UC Berkeley to Southern University ramp up their investment in various esports programs, Simon also mentioned her work in ensuring that minority students looking to gain headway in the industry have that opportunity. This includes helping to raise $11,000 for a new HBCU League led by Twitch, Atlanta-based organization Cxmmunity Gaming Co and the United Negro College Fund. The resources will allow the distribution of equipment grants and scholarship awards for HBCUs who sign up for the established HBCU esports league. Between her commentary work and executive position through XSET, Simon hopes to set an example for Black women looking to make space within the video game industry.
"Growing up, I wish I had people who looked like me in this space or people who could help me navigate as well," Simon explained. "I wanted to use my platform to inspire other young Black women because I wanted to be someone who helped knock down doors to create more opportunities for those after me, to help through education/information, and to show that we are just as much a part of the gaming community as anyone else."
When Simon isn't working around the clock to help establish new diversity and inclusion standards for men and women gamers of color, she still finds time to game. This means playing popular games like Halo Infinite, the recently released PC port of God of War (2018), and indie titles like Binding of Isaac. It's a way to stay inspired as she creates more history-defying moments in gaming for Black women.
"I understand that sometimes to be better at your work, you have to take breaks and you have to relax."
---
Ural Garrett is a Los Angeles-based entertainment and tech writer documenting the intersections of pop and digital culture. Follow him at @UralG on Twitter.