'Power' Star Larenz Tate Gives His Surprising Thoughts On Trey Songz Theme-Song Backlash
Does he make a valid point?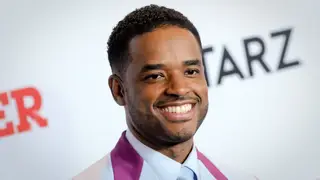 The sixth and final season of the hit Starz drama Power got off to a spirited start, with viewers seething after noticing its iconic theme song was tweaked — Trey Songz replaced Joe as the voice behind "Big Rich Town" in the opening of the first two episodes.
After fans campaigned for the song to be reverted to its original, 50 Cent, the show's executive producer, took to social media to alert its loyal viewers that their wish will be granted for the upcoming third episode.
TMZ also caught up with current cast member Larenz Tate, who said that he understands why the fans' outrage is so potent.
"I don't think [Trey Songz] should be offended," he said. "Trey has die hard fans. We all love Trey Songz. I just think the audience, their ears are just used to the original theme song and I feel like perhaps if it was a remix that was put on the radio, you probably could deal with it a little more than when you first hear a new version of a theme song after listening to it for five years... It's not an offense; it was just very, very noticeable."
The actor, who plays councilman Tate in the series, even offered up some advice to the R&B singer.
"I don't think it hurts Trey in any capacity," he added. "Right now, I would say, 'Yo, Trey. Take the opportunity while you got a lot of this internet going crazy. Drop a new song. Take advantage of it. You know what I'm saying?' Turn lemons into lemonade."
Take a look at his full response, below: