Overdose Deaths Higher Among Black Americans Than Whites In 2020, Study Says
The alarming trend is 'increasingly becoming a racial justice issue,' the authors say.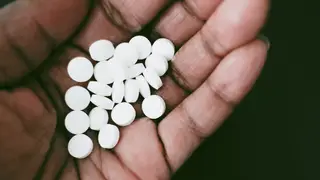 There's new evidence that drug overdose deaths in the Black community are at a crisis level.
An analysis found that the death rate from drug overdoses among Black people was higher in 2020 than among whites for the first time since 1999, according to a study published Wednesday (March 2) in the journal JAMA Psychiatry. The co-authors say this is "increasingly becoming a racial justice issue."
Researchers found that the overdose mortality rate for Blacks increased from 24.7 deaths for every 100,000 people in 2019 to 36.8 per 100,000 in 2020 — 16 percent higher compared to the 31.6 per 100,000 overdose death rate among whites.
"This is a reversal of the overdose mortality gap among Black and white individuals noted in 2010," co-authors Joseph Friedman and Helena Hansen, both of the University of California, Los Angeles, wrote.
Friedman and Hansen analyzed data on drug overdose deaths between 1999 and 2020 from the Centers for Disease Control and Prevention's WONDER database and the National Center for Health Statistics.
Other studies, which focused specifically on opioid deaths, found that in the early wave of the opioid crisis, Blacks had a lower rate of overdose deaths than whites, as NPR reported in 2021. By 2013, white death rates plateaued while Black rates increased.
The new study, which looks at overall drug overdoses, highlights that in 2010, the overdose mortality rate among whites was double the rate for Blacks, 15.8 deaths per 100,000 white people compared to 7.9 Blacks.
"These shifts reflect that Black communities have experienced higher annual percentage increases in overdose deaths compared with their white counterparts each year since 2012," the researchers found.
An increasingly "toxic illicit drug supply," which includes potent synthetic opioids and high-purity methamphetamine, likely fuels the overdose crisis, according to the co-authors. The current drug supply is more potent and unpredictable, and the consequences disproportionately harm communities of color. Inequalities, such as access to quality health care, incarceration rate and employment, are factors that have likely contributed to the escalating crisis for Blacks.
"Drug overdose mortality is increasingly becoming a racial justice issue in the U.S.," the co-authors said. "Our results suggest that drug overdose mortality has been exacerbated during the COVID-19 pandemic."
They offer several recommendations to address the problem. Some of the solutions involve ending systemic inequalities in health care, routine incarceration of people with substance use disorders, and social conditions.