Protesters Demand Shaw University Reopen Mosque To The Public
The HBCU with its Baptist roots is accused of bias, says a lawyer for the Muslim community, which had prayed there for years.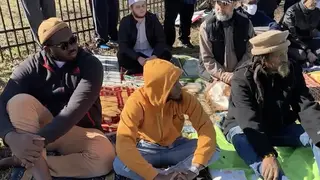 Members of the Muslim community near Shaw University in Raleigh, N.C. held a third protest Saturday (Feb. 4) calling on the historically Black institution to reopen a campus mosque to the public that the administration closed at the start of the COVID-19 pandemic.
"I want them to open the building so we can pray. We just want to pray simply. We just want to pray," Abdul Rahmann, a Shaw alum, told Spectrum News 1 in Raleigh.
Before the pandemic, Shaw permitted the public to use the King Khalid mosque for prayer and Sunday school. The International Studies Center, the official name of the mosque, broke ground in 1982 and was built with a grant from a Saudi Arabian king to expand Shaw's Middle Eastern studies program and to provide a place to worship.
Rahmann said he "became a Muslim" at the mosque and met his wife there. "And so this building has a lot of memories," he stated.
In a Jan. 27 statement to Spectrum, Shaw said it respects the protesters' constitutional right to protest peacefully.
The statement continued: "As previously announced, the International Studies Center on the campus of Shaw University is open and available for use to enrolled students; access to the mosque by Shaw Students is coordinated through the university's chaplain office. In the wake of the pandemic, the campus mosque will only be available to currently enrolled Shaw University students, and the revised hours of operation for the center will be communicated directly to students."
Attorney Nigel Edwards, who has led prayer and Sunday school services at the mosque since 2005, suspects the university is applying a religious double standard because chapel services are reopened to the public.
"Our belief is that it is because we are Muslim. This is a Baptist-affiliated university. You have one religious place of worship that's open and another that's not," Edwards told WRAL.
Shaw has benefited from a million-dollar gift from the Saudi royal family but not living up to the donor's requirement to give the local Muslim community access to the mosque for prayer, Edwards added.
Edwards told the News & Observer that, even before the pandemic, community members often had problems over the years accessing the mosque, which a separate nonprofit operates.
Meanwhile, the National Council on American-Islamic Relations, a Washington, D.C.-based advocacy group, wrote a letter to Shaw's President, Paulette Dillard, urging her to resolve the matter with Edwards as soon as possible.
"We encourage Shaw University to respect the diverse (sic) of both its local community and its campus by reopening the mosque to the public again," the letter stated. "It appears that local community members are willing to work with the school to formalize arrangements for caretaking of the facility in coordination with and under supervision of the school."