Issa Rae Gets Emotional On Final Day Of The 'Insecure' Shoot
The 2021 BET Awards "'Best Actress" nominee let the tears flow.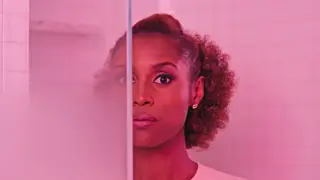 As Issa Rae prepared to film the final episode ever of Insecure, the emotions were overflowing on set.
The mascara started streaking when Prentice Penny, the show's head writer and executive producer, took a stroll down memory lane, posting photos and videos of his favorite behind-the-scenes moments working on the groundbreaking series for HBO.
Rae reposted some of the images on her stories, along with a teary-eyed video of herself, and the caption: "My guy is really leaving me today. I am already a wreck."
"It is Prentice and Yvonne's last day today and I am f-- up," said Rae, referring to her, costar Yvonne Orji, who plays Rae's best Molly on the show. "This sh-- is real. I'm a G though, I'm gonna tough it out," she continued, writing on the post: "12-13 more hours to go… @insecurehbo."
 
Insecure, which premiered in 2016, explores the challenges faced by two Black women who don't fit into any of mainstream culture's usual stereotypes. The series will conclude it's run with its upcoming fifth season. And while we totally understand how emotional it must be to come to the end of the much-loved TV series, we're hoping Rae will find some solace in having been nominated for "Best Actress" in the 2021 BET Awards.

Tune into the BET Awards on Sunday June 27th, at 8PM/7c to find out if Rae takes home that big award and starts crying tears of joy!