Lawsuit: Tatyana Ali Says 'The Real' Was Originally Her Idea
Find out what she's doing about it.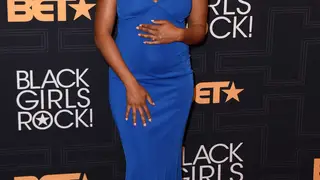 Daytime talk show The Real has had its fair share of drama over the past couple of months with the dramatic firing of Tamar Braxton, and it looks like the trend continues as Fresh Prince of Bel-Air star Tatyana Ali is claiming the show was originally her idea.
According to Deadline, the mother-to-be is taking legal action against Warner Bros and Telepictures for stealing her idea for the concept of the panel talk show.
In the docs, she claims she pitched the idea back in 2012, but was told both companies "decided to decline." To her surprise, six months later, The Real made its debut as "a direct production," and subsequently made its nationally syndicated debut in the fall of 2013. Most recently, the show has been renewed until the spring of 2018.
In the lawsuit, Ali claims her concept was completely stolen while she was blindsided that it was shelved. "With a greal deal of disappointment and complete disbelief, Ali witnessed her concept come to life on major network television at the hands of the Defendant Corporations."
Her initial concept was described as "a unique and innovative format, which featured an eclectic group of engaging female celebrity hosts, each aged within their 20s and 30s... designed to pique the interest of the younger side of the mid-life/mid-career female population and features a variety of contemporary discussion topics in a relaxed and informal setting."
The child star is seeking to obtain "all rightful gain, profits, and advantages derived by the Defendants," and a collection of "designatied percentages of the proceeds resulting from past, current and future production and airing of The Real television program."
Catch up on the drama that surrounded Tamar's departure from the talk show with BET Breaks, above.
BET.com is your No. 1 source for Black celebrity news, photos, exclusive videos and all the latest in the world of hip hop and R&B music.