SWV Honored By Seeker Music Company Ahead Of Debut Album 30th Anniversary
A new EP will release on Oct. 28 featuring reimagined hit songs from the R&B group's first studio album 'It's About Time.'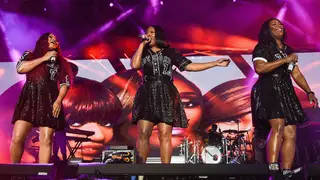 Seeker Music is celebrating the 30th anniversary of SWV's debut album, It's About Time, with a new special EP featuring reimagined hit songs performed by up-and-coming artists.
In a press release obtained by BET.com, the new EP titled It's Still About Time will include new versions of the R&B group's classic hits "Weak," "I'm So Into You," and "Always On My Mind" from emerging talent including Grammy-nominated singer/songwriter Tayla Parx.
"I'm really happy to be able to share my take on an iconic song that I grew up listening to! As a singer/songwriter, I appreciate when a song has a well-formulated structure wise and melody on top of being able to seamlessly convey a heartfelt message in a way that is accessible to all," Parx said in an official statement.
"My version of 'I'm So Into You' is what I feel like a 2022 version should sound like, and I hope it touches a new generation of listeners just like it did for me!"
In addition to Parx's "I'm So Into You," listeners will hear Say She She's version of "Weak," Dizzy Fae's take on "Always On My Mind," and another rendition of "Weak" performed by MA/SA.
Seeker will host a 90s night EP preview event in Los Angeles on Oct. 23, ahead of the official release.
It's Still About Time EP will be available on Oct. 28.